Winter Gems – Port Hawkesbury Community Trails
Looking to reconnect with nature while on Cape Breton Island? Or have supper by a fireplace on a cold winter's night? Did you know that Port Hawkesbury has both of these along with some amazingly delicious food?  All of these are just minutes from the Canso Causeway.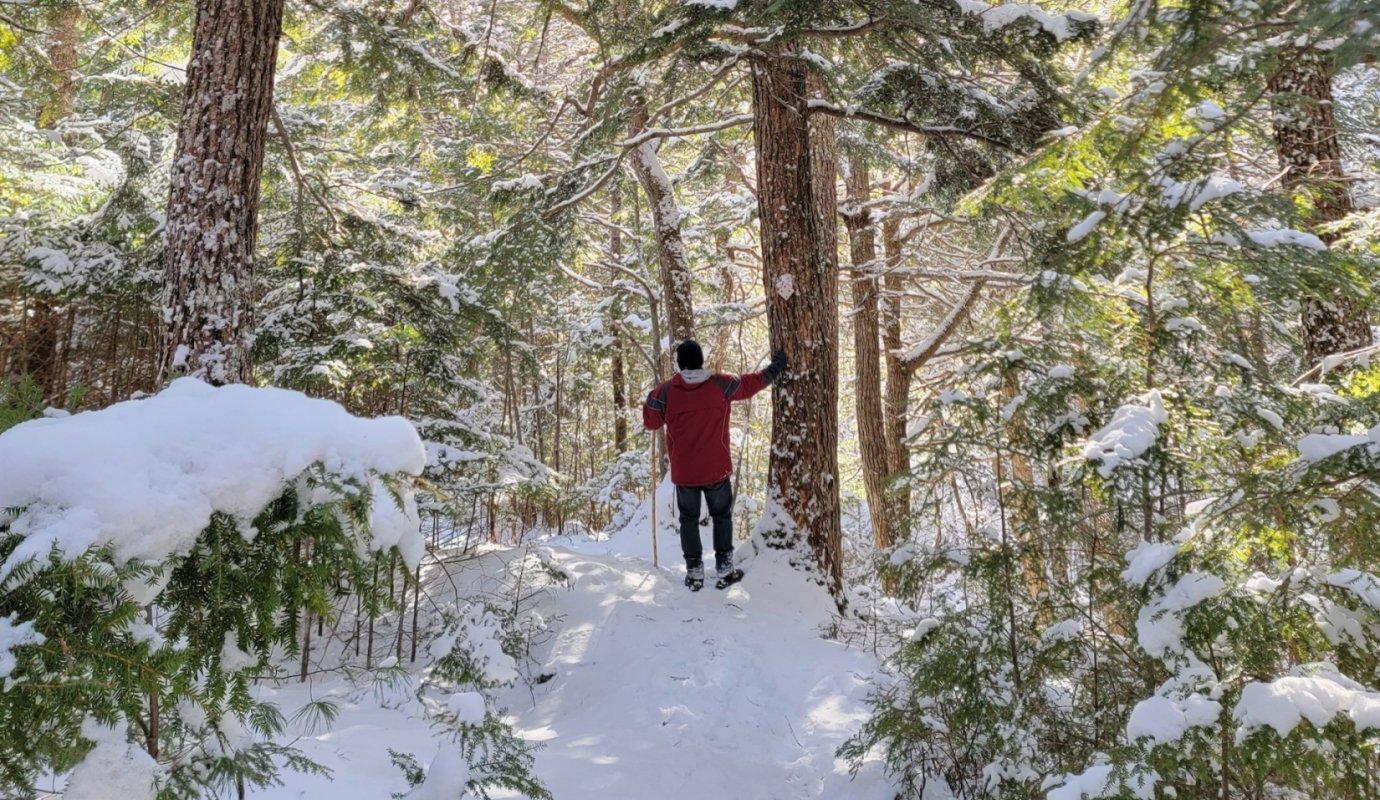 This trail system is conveniently located in Port Hawkesbury allowing you to connect with nature without leaving town. It consists of 10 kilometres of trails and is accessible at several entry points indicated by directional trail signs. It's very well maintained by the community and even after a fresh snowfall the boardwalks and stairs are shovelled.
Along the way, you'll find some old pine trees (ones that you'll want to hug), a look-off overlooking the river, and 500 metres from there you'll find the Embrees Brook waterfall. There's a cute wooden bench and footstools right in front of the falls to sit, relax and listen to the rushing water.
Who knew…right in Port Hawkesbury! If you have time on your hands while visiting the area, take your hiking boots/snowshoes to these trails. A walk in nature is the best therapy.
Located right in Port Hawkesbury, you'll be met by friendly staff, a welcoming environment, and the best part – they are pet friendly! Our room was on the ground floor so conveniently accessible both from the parking lot and from the interior of the hotel. The Inn features an indoor pool, fitness centre, lots of parking and a restaurant right on site.
After hiking the Port Hawkesbury community trails, you'll have built up an appetite. Miller's Tap and Grill is located right in the Inn, so no need to step back outside in the cold. You can cozy up to the fireplace while enjoying your meal. They have an extensive menu and generous portions. If you're a seafood lover, the maple whisky salmon is the top choice. Even if you are not staying at the Inn, there is ample parking at the back of the restaurant and everyone is welcome to come in for a delicious meal.
When you think of a "weekend getaway" you don't have to travel very far as there are so many incredible places to find adventure in Cape Breton.
---
Continue Reading