1st Annual Smokey Fest will be held on Friday, July 1st at Cape Smokey! Live Music in partnership with the Gaelic College and Kitchen Fest.
Free entry for Cape Smokey Members and free entry with purchase of gondola pass.  $10 for adults and $5 for children/students (6-18) without gondola day pass/Membership.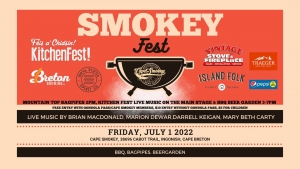 Smokey Fest will kick off at 2 pm with Mountain Top Bagpipes then down to the main stage for the first concert on the new stage with Live Music by Brian MacDonald, Marion Dewar, Darrell Keigan, Mary Beth Carty from 3-6 pm. Matt from Vintage Stove and Fireplace, Nova Scotia's sole Traegar Grill Dealer is bringing the big grills to Cape Smokey for authentic BBQ!! BBQ & Beer Garden will be open from 3-7p m sponsored by  Nova Scotia Spirit Co, Breton Brewing, Island Folk Cider and Cape Breton Beverages! We look forward to officially kicking off summer and the long weekend with a day of BBQ, Bagpipes, Beer & Buds!!
Return Bus from Sydney to Cape Smokey Friday, July 1st for Smokey Fest:
Return Bus from Sydney to Cape Smokey Friday, July 1st for Smokey Fest:
$79+HST includes return bus trip from Sydney to Cape Smokey, gondola day pass and entry to Smokey Fest.
Friday, July 1st first departing from Sydney:
10 am pickup CBU Residence
10:15 am pickup Centre 200 Back Parking Lot
10:30 am pickup Walmart Sydney River
Arrival at Cape Smokey approximately 12:15pm
Kick off the long weekend with Cape Smokey at the first annual Smokey Fest! The ultimate summer outdoor party with BBQ, Beer and Bagpipes!
Bus departs Cape Smokey Parking Lot at 7:30pm sharp and drop off times/locations:
9:15pm Sydney River Walmart
9:30pm Centre 200
9:45pm CBU Residence
Limited seats available, proof of ticket purchase must be shown to the bus driver and Cape Smokey to receive gondola/Smokey Fest pass. Buses are equipped with PA (Public Address) Systems, Restrooms, Audio/Video, Climate Controlled Air Conditioning/Heating Systems.
*Conditions apply.  Tickets on sale until June 30, 2022 at 3pm.  In case of cancellation of bus, ticket holders will be notified on June 30 and tickets will be refunded.