Experiences & Packages
Follow your heart to northern tip of Nova Scotia—that's where you'll find an array of exciting packages and unforgettable experiences. Cook lobster on a beach in the Cape Breton Highlands. Learn traditional basket weaving from an Indigenous Mi'kmaq artisan. Spend days in bliss on a curated adventure around one of the world's most beloved islands.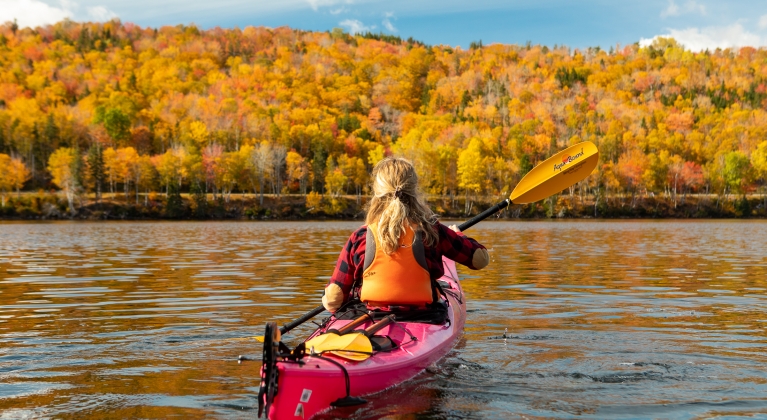 Outdoor Adventure

Our trails, mountains, and coastline provide a wealth of amazing opportunities for the outdoor adventurer. Here, you'll find a lifetime of adventure packed on our 110-mile long island. Go hiking on one of our Island's many trails and take in all of the stunning views. Swim at the many pristine and sandy beaches. Experience a guided paddle boarding tour along the Margaree River or sit back and relax as you go tubing down the river instead. In Cape Breton the outdoor adventures really are endless, so get your hiking boots and paddles ready!

Music & Culture

Immerse yourself in the spirit, sounds, and stories of the Island's three foundational cultures: Mi'kmaq, Acadian, and Gaelic. Take part in various Mi'maq, Acadian, or Gaelic-focused festivals and events. Learn about the culture Cape Breton has to offer, by experiencing it for yourself.
Culinary Experiences

Discover these "must-eat" destination with each delicious taste of fresh shellfish, sustainably farmed produce, and unfiltered microbrew. Experience world-class shellfish, locally grown ingredients, and award-winning sips that connect our heritage to our land. The culinary scene in Cape Breton is truly unlike anything you have experienced. With hundreds of cafés and restaurants to choose from, and countless local producers across the Island, you are in for a taste sensation with every dining experience. Check out these venues to see what unique culinary experiences they offer.

History

Step back in time to discover the historic sites, people, and innovation that shaped Cape Breton Island. Take a trip back in time at the Fortress of Louisbourg or visit the Cape Breton Miner's Museum to experience the conditions of a Cape Breton coal miner. Immerse yourself in the rich Mi'kmaw culture that exists on the Island and learn their history at the Mi'kmaw Interpretive Centre. The chances to enrich your understanding of Cape Breton and its history are all over!
Tour Operators

A great way to experience all that is Cape Breton Island is to take part in one of these tours. How about a helicopter tour over looking the coast or a take part in a personal motorcycle tour around the Cabot Trail. What about a guided mini-van tour of the Island's most iconic landmarks. With all of the amazing and stunning sites that the Island has to offer, you're guaranteed to miss nothing with these tour operators. 

Coastal Adventure

Chart your own course for adventure. From perfectly sanded beaches and whale watching to kayak tours, fishing, and paddle boarding—Cape Breton is the perfect spot to host your coastal adventure. Take a relaxing sailing tour on the Bras d'Or Lake, an inland saltwater sea, a UNESCO Biosphere or adventure onto the Atlantic. Through straits and passages, coastal communities and canals, get to know our corner of the Atlantic. We're sure you're going to love it.
Golf

Sweeping cliffs, majestic ocean views, and miles of green—Cape Breton Island was made for golf. Names like Cabot Links and Cabot Cliffs—two of the most recognized courses to have opened in recent memory—sit on the west coast of Cape Breton, while the renowned Highland Links sits to the north. Adding to the great golf is Bell Bay in the quaint, seaside town of Baddeck, and Le Portage in the charming Acadian town of Chéticamp. Golf was invented for venues like these. Tee off at our Island's many courses, designed to complement the stunning terrain.

Living Cultures

Three foundational cultures are central to the Island's identity, but industrialization and globalization brought more people from around the globe. Experience a small piece of Mi'kmaq culture with a beading workshop at the Membourtou Heritage Park, or explore the rich Acadian culture in Chéticmap at the Mi-Careme Centre. Explore the immense gaelic culture by visiting the Gaelic College and taking part in one of their cultural demonstrations. It is the rich, living cultures like these that make Cape Breton such a unique destination—we hope you take the time to experience it during your trip!
My name is Riley Beaton and I am from Mabou, Cape Breton Island. I've always had a deep passion for adventure, the outdoors, and photography so getting to explore hidden gems on the Island that I love was very suiting and enjoyable. @rileybeaton2
---
Continue Reading
Take a Picture. Leave your heart. #VisitCapeBreton