Cabot Trail
, Canada's Musical Coast
, Cape Breton Highlands National Park
, Outdoor Adventure
, Uncategorized
10 Unique Places to Stay on Cape Breton Island
You've never experienced camping and cabin-stays like this before! Camping meets luxury at these 10 destinations and we're sure you're going to want to check them out. If you've ever wanted to try the camping experience, but don't have the gear or don't want to sacrifice certain conveniences, these glamping sites and cabins are meant for you! 
Wondering where to start your glamping experience this summer? We suggest booking one of Live Life in Tents' all-inclusive glamping sites for your true luxury camping dreams. These  16ft. by 20ft. platform-pitched safari-style canvas tents sleep up to four people, and come fully equipped with cooking gear, bedding, and your very own campfire pit—s'mores anyone?
Not only are these sites fully stocked, but they're also eco-friendly, with shared access provided to their solar-heated outdoor showers. Enjoy waking up to stunning views of the river valley and if you're looking to stay connected, you can access wi-fi at the camp store! These luxurious glamping sites really do bring a new whole new meaning to glamorous camping.
COVID-19 Update: *Due to Covid-19 these Glamping accommodations will only be available on weekends (Friday-Monday) for remainder of the 2020 season.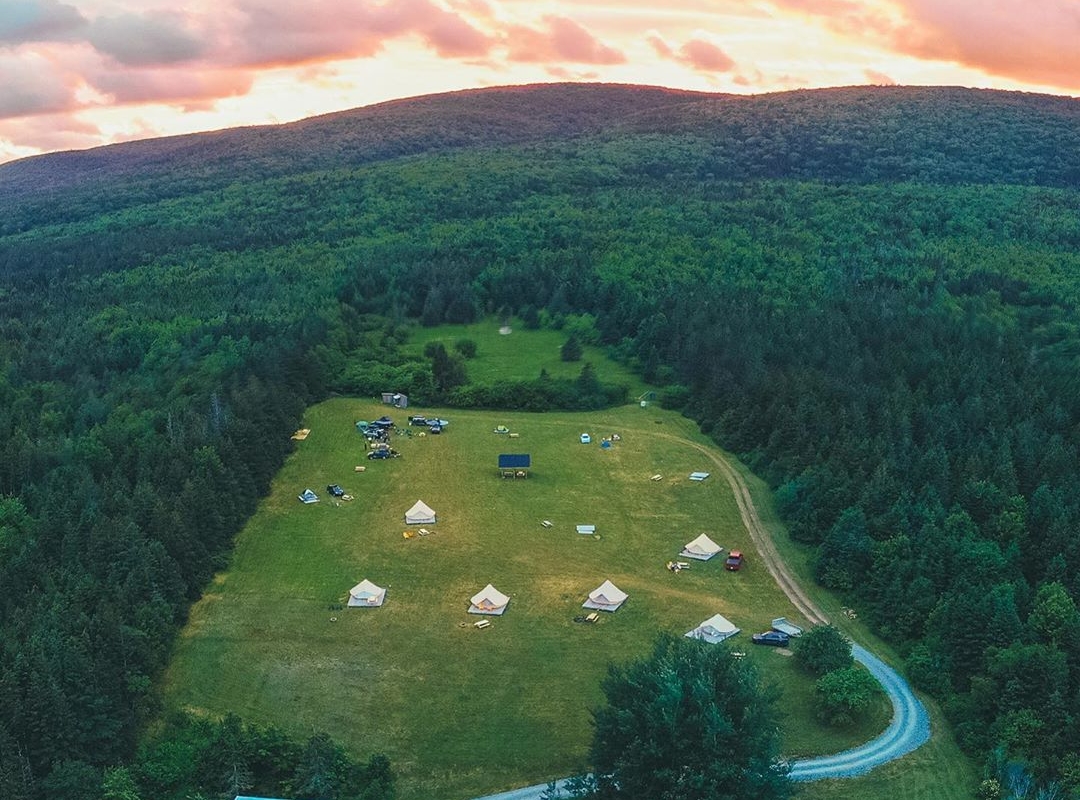 Situated on South Harbour a few hundred meters from The Cape Breton National Park limits, these sites offer a sweet escape into nature. The resort offers two glamping options, geodesic domes and the Tipi Village. The geodesic domes come as either a king size suite, or two queen size bedrooms, both with private bathrooms. Additionally, they include electricity, hot water, private charcoal barbecue, bedding, bath towels, and a fire pit. The Tipi Village features barebone tipis equipped with an electrical and inside fire pit and an outdoor barbecue area complete with picnic tables. The site also features access to their shared bathroom facilities. Sleeping supplies are not provided.
The Blue Bayou resort is a great spot to vacation this summer, with its many recreational activities. You can also spend some time kayaking, canoeing or paddle boarding in the harbour or enjoy a relaxing day at the beach. Whatever your preference, the Blue Bayou is ready for you!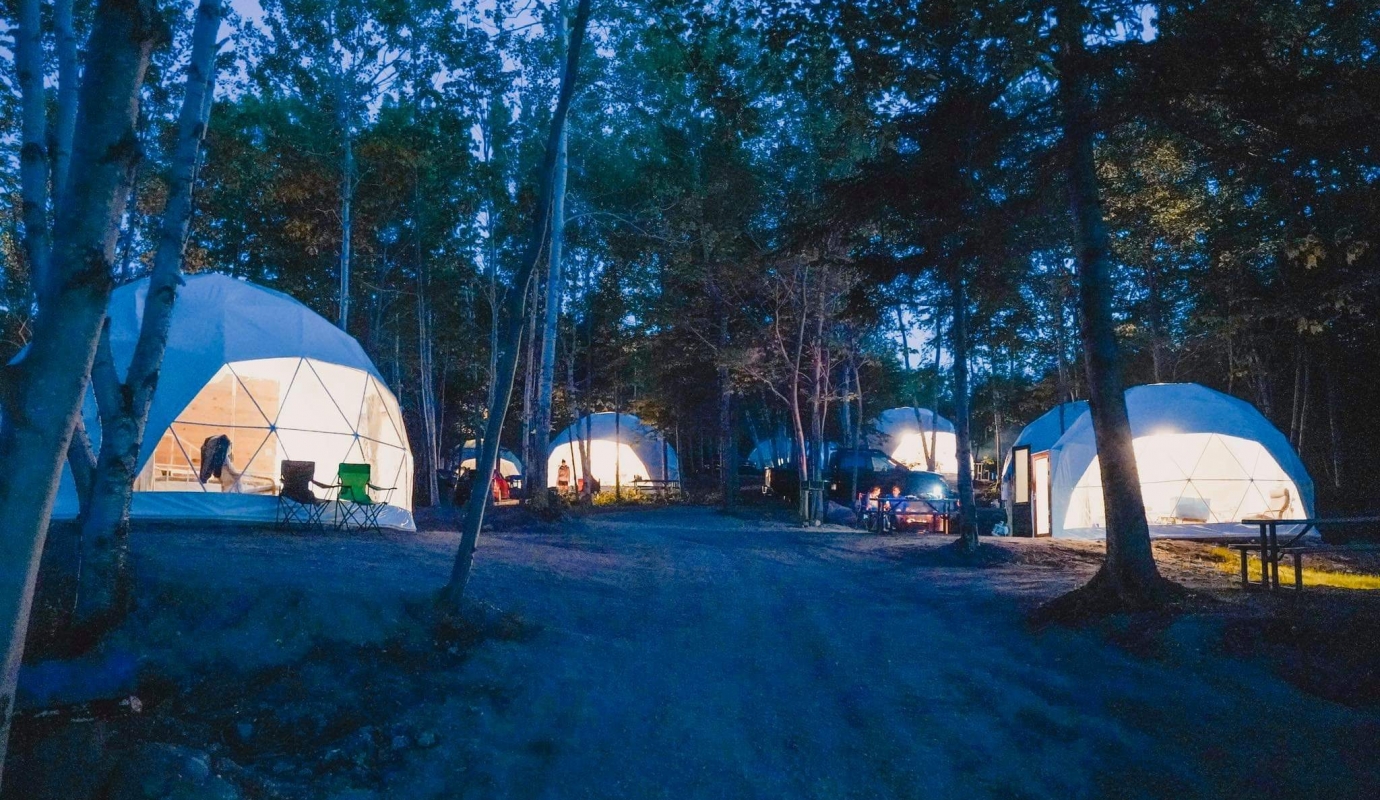 Cabot Shores offers two wooden yurts and nine authentic Mongolian yurts, as part of their glamping accommodations, which are all nestled in the wilderness at Cabot Shores. The Yurts sit on a wooded deck and feature a skylight—perfect for star gazing at night! The Geodesic Domes—or Treetop Village, as coined by Cabot Shores—sit on an elevated deck located in the apple orchard. This allows for stunning views of the ocean, Bird Islands, and the Cape Breton Highland Hills. There are also a selection of sizes and styles for the domes, allowing you to pick the perfect one for your needs.
Not only does the resort offer great glamping sites, but they also offer a wide variety of activities that are sure to keep you busy. Whether it be kayaking, canoeing, paddle boarding, or a guided hike, staying at Cabot Shores is sure to impress!
Located on The Great Trail, in the Southern Cape Breton Highlands, this resort features spacious cabins with light finishes, all while still offering that rustic, wilderness cabin feel. Each cabin sleeps up to four people, with washrooms and showers located on site, only a short walk away. Wondering what to do during your stay? Luckily, Iron Mountain has lots of services and activities to provide you with. Spend the day hiking or biking The Great Trail, followed-up with dinner and drinks at their pub and lounge—and when that's all over, end the evening on your front porch deck, and watch the sunset. If you're looking to unwind and enjoy the great outdoors, this is the spot for you!
Located in Judique, just off Route 19, Archer's edge luxury camping sites truly live up to their name. Each of these domes are fully self-contained and feature a queen size bed, cozy seating, a private bathroom, a fully equipped kitchenette, air conditioning, and a private balcony. Even better, this destination is only a kilometre away from the beautiful, scenic Celtic Shores Coastal trail and only 10 kilometres from the Port Hood—the Beach Capital of Cape Breton. So, not only will these sites exceed your glamping expectations, but the awesome location is sure to make your vacation a fun one!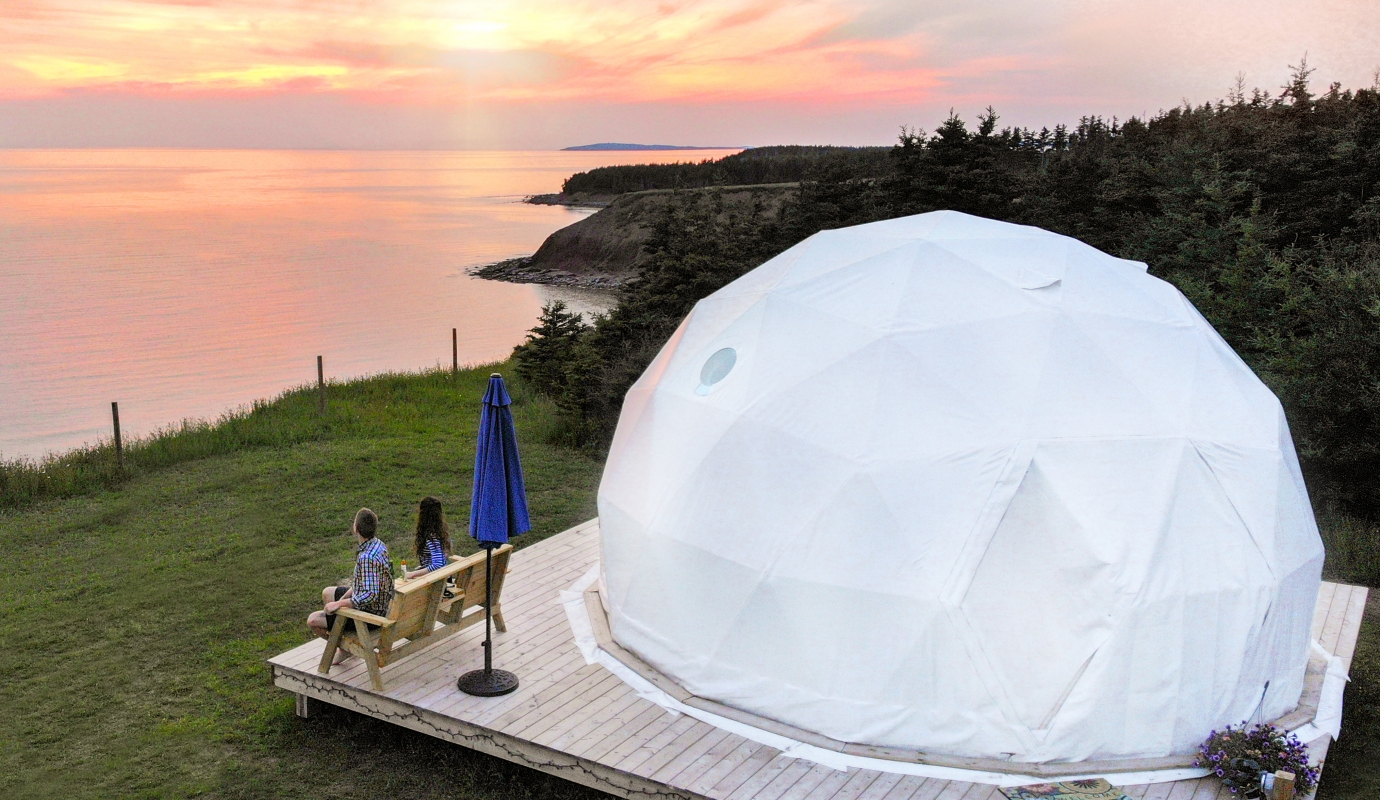 These five wilderness cabins are a slight step up from your typical glamping set-up. Each cabin is uniquely hand crafted by the owner, Angelo, and features custom built beds, stained glass windows, and original carvings—creating a space full of character. They also boast a stunning view of the water, which you can enjoy from your sheltered, private deck. Looking for activities to keep you busy during your stay? We suggest booking a kayak tour with Angelo, as a way of really enjoying the stunning river view. River Nest is definitely a great place to unplug, unwind, and connect with the great outdoors.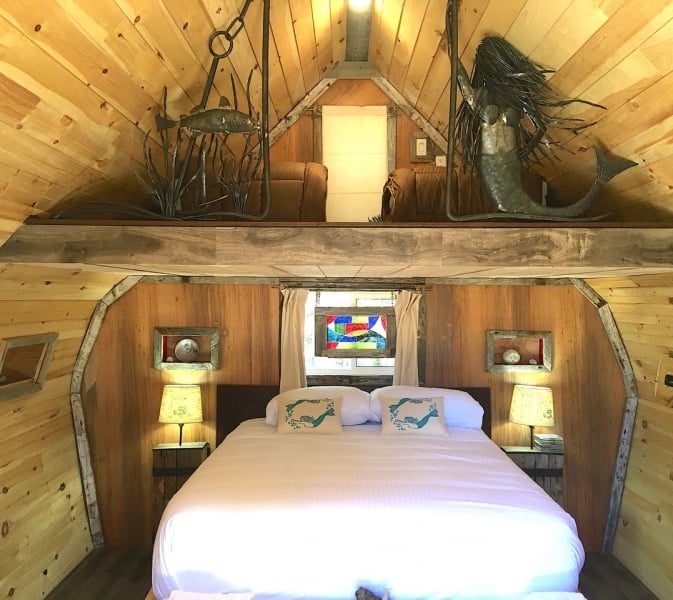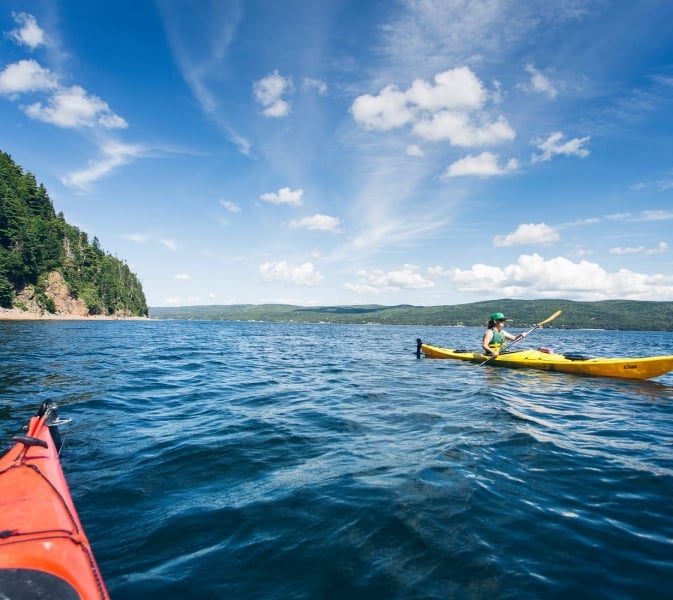 Located on the top of the Fielding Road in Margaree Centre, these newly built cottages feature a spectacular view of the Margaree Valley. Each chalet comes equipped with a full kitchen, bathroom, smart TV, wi-fi, and air conditioning. The high ceilings and huge windows give each chalet a modern and spacious feel. The outside area is just as enjoyable, with a 200 square foot veranda—a perfect place to utilize the barbecue provided! This is definitely a great place to set up camp for the weekend—or week—whatever your schedule allows!
Just as it sounds, these glamping sites are secluded in the back woods of the Broad Cove Marsh—making this the perfect place to getaway and disconnect. Each of these four glamping tents are equipped with essential camping supplies, such as pans, dishes, tables, chairs, two double beds and much more. Even better, the verandas attached to each site overlook the Gulf of St. Lawrence, providing you with the perfect sunset view. Located only 5 minutes from quaint the town of Inverness, you are close to two world-renowned golf courses and the stunning Inverness beach and boardwalk—giving you plenty to explore!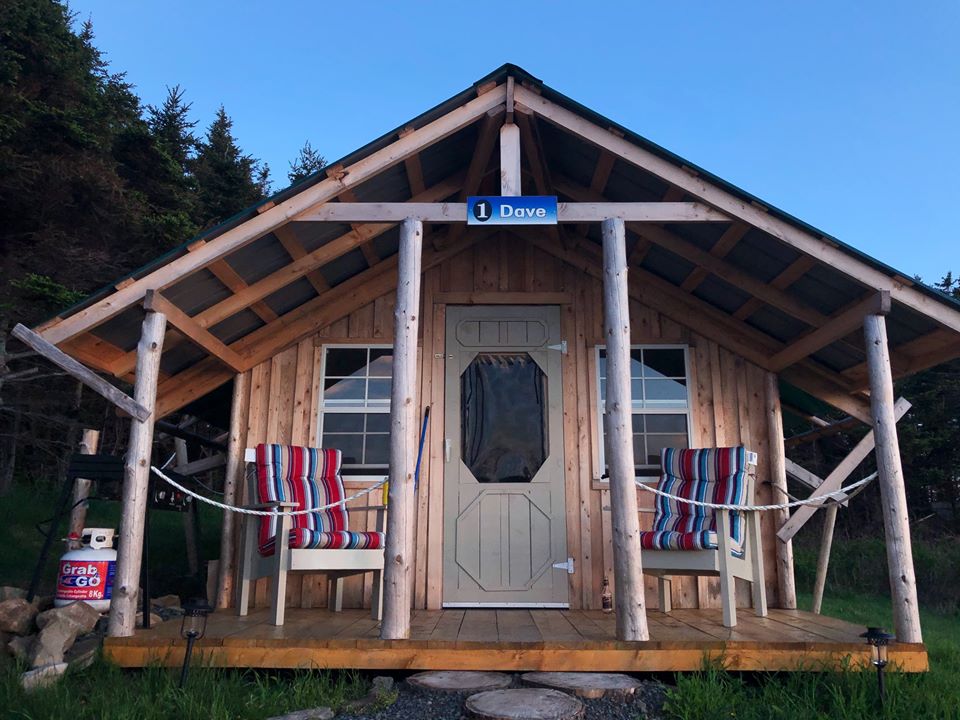 The Dancing Moose has just the right cabins to elevate your glamping experience and make it a trip to remember. These four insulated cabins come complete with their own shaded deck and picnic table. Each cabin is uniquely built, and fully equipped with a mattress, electric heat and with just a few steps you can access your own personal bathroom. Wondering how to fill your time? We suggest following their trail down to the beach, or dining at their delicious and quaint café.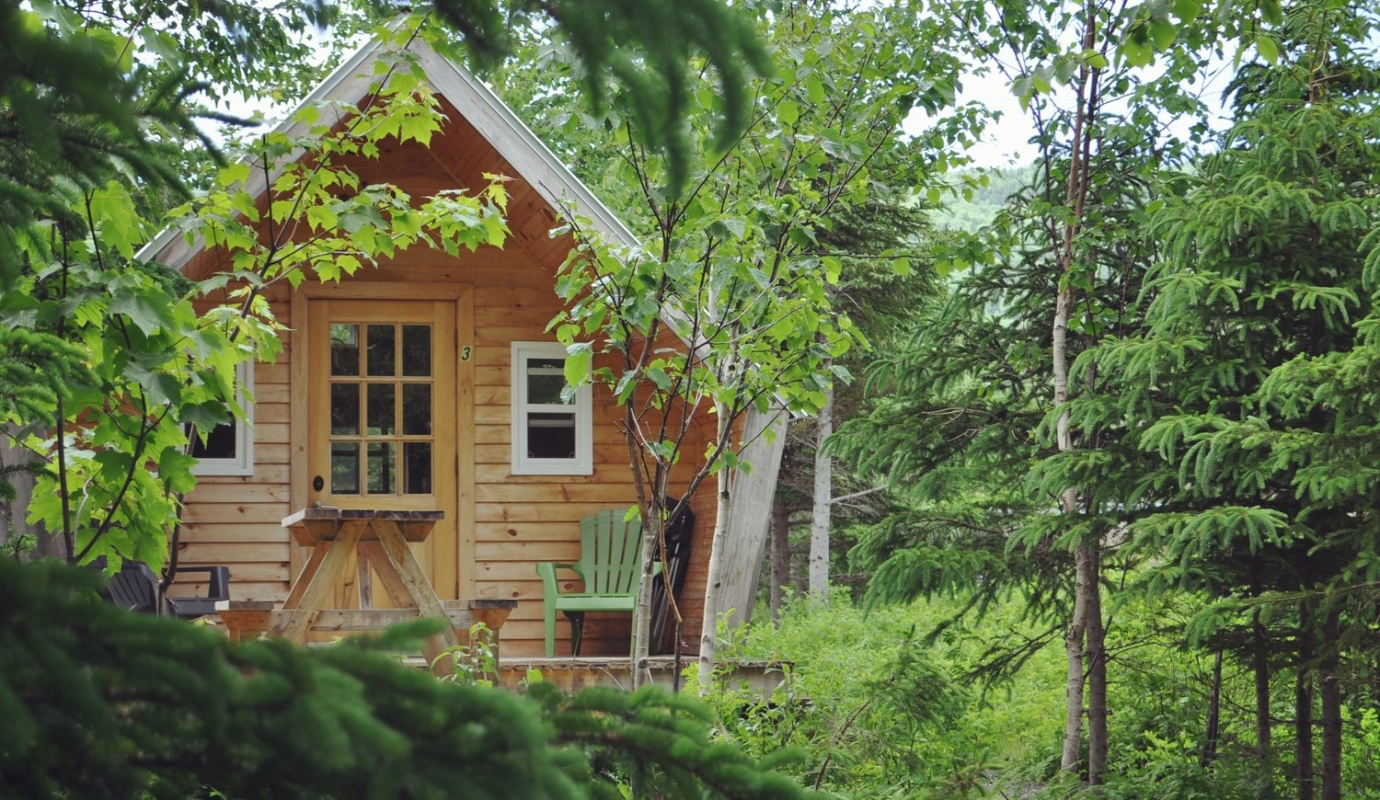 Nestled along Cape Breton Island's Cabot Trail coastline, these luxury geodesic domes are the perfect place to vacation with their stunning ocean views and mountainside lodging. All nine domes come with a luxurious queen-sized bed, a 3-piece bath, fully equipped kitchenette, a dining/living room area, large bay windows and skylights. The outdoor amenities are equally great with a hot tub, barbecue, private deck and private pergola. Enjoy the outdoor experience of a geodesic dome with spectacular ocean sunsets and mountain sunrises. True North Destinations is the perfect place to enjoy all of the luxury amenities of a geodesic dome, while getting to see spectacular ocean sunsets and mountain sunrises. We're sure you'll want to keep coming back!
So, there you have it—your complete starter guide to glamping and unique cabin-stays! Check these spots out as part of your safe escape to Cape Breton Island this summer. We promise they won't disappoint!
Over the past few years, it's been great to see so many new businesses open up downtown Sydney, and in this blog, I wanted to share with you my experiences after spending a weekend downtown.
---
Continue Reading