7 Places to Square Dance with Locals
Growing up in a cultural haven like the village of Mabou, it's easy to take the local square dance tradition for granted, it being so common and such a norm in my upbringing. However with a bit of life and travel experience, and seeing it ebb and flow in popularity, I've come to know this part of our cultural lifestyle to be integral, and a true lifesource to our rich music and dance tradition. While in Cape Breton, if wanting a real slice-of-life night out, be sure to check out one of our dandy dances.
The West Mabou Square Dance (all ages)
This staple of Canada's Musical Coast is the dance that runs all year long and holds that coveted Saturday night spot. You'll find it in a small community hall, a short stretch outside the village itself, and just a bit off Route 19 in West Mabou. The action starts at 9 pm, runs until midnight, and all ages and experience levels are welcome.
On Route 19 in the wee village of Judique, you'll find this haven particularly lively on Sunday afternoons. Their ceilidhs are weekly and run all year, allowing locals and visitors alike the chance to sit back and listen or hop in one of the many impromptu square sets. Nightlife dancing not aligning with your vacation plans? Not to worry, these ceilidhs are 2 pm-5 pm and great for all ages.
The Brook Village Square Dance (ages 19+)
Perhaps the most popular dance on the go these days, this is a hot spot on Monday nights during the summer. It has lots going for it too – a great hall for dancing, it's right along Route 19 so you can't miss it, and there's a dandy canteen with noted hot dogs for sale all night. Tip: It runs from 9:30pm-1am, but folks often attend the nearby jam session at 'The Shoe' in Mabou prior to coming down to the dance.
The Glencoe Mills Square Dance (all ages) 
Few dances are as legendary as Glencoe Mills, a summer staple now for over 50 years. In an old schoolhouse down the sometimes tricky back roads of western Cape Breton, locals and travellers alike gather here on Thursday nights from 9pm to midnight. Come by car, camper, horse, or by foot (you'll see all of the above there sometimes) – all roads lead to Glencoe.
The Southwest Margaree Square Dance (ages 19+)
In picturesque Margaree along Cape Breton's west side, you'll find this white country hall, good company, and a great time. Head for SW Margaree on Friday nights during the summer months, and bonus, you'll probably luck into one during the Celtic Colours festival as well. Tip: A dance in SW will usually follow the big, outdoor Broad Cove Concert on the last Sunday of July each year as well, and is not to be missed!
The Cedar's Club Square Dance (ages 19+)
This hopping dance happens in Sydney on Cape Breton's eastern side and takes up more in the off-season outside of the busy summer months. Located on MacKenzie Street, just off Townsend, you'll find the locals drivin'er on the dance floor the entire 3.5 hour dance, usually running 8:30pm-midnight. Be sure to ask around and thank Elmer Fraser for the fun night – he's been keeping them going in the area for over 30 years.
The Iona Legion Square Dance (all ages)
This community dance for all ages happens in spells throughout the year on Saturday evenings in central Cape Breton. An earlier time slot at 7pm-10pm, it is usually preceded by a workshop so everyone can learn and then jump in and dance the local set. Iona is also home to the Highland Village museum which from time to time offers an 'Old School' dance, one held in and outside of their one-room schoolhouse as was done in the old days.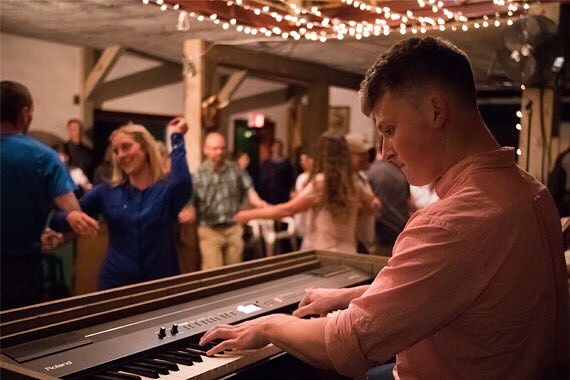 And many more!
The fact is Cape Bretoners love to square dance, and there are far more chances to see/feel it for yourself than the 7 listed here. In a storybook-like setting on the island's west side, be sure to carve out time for a fun summer evening in Margaree Valley. Just past the Normaway's Inn and cottages sits a cozy barn that has housed some staggering performances over the years. At 8 pm on Wednesdays, there's always a lively 3-fiddler concert, then folks push back the chairs and benches and clear the floor for a dance. This is one of the last that features a caller or prompter, so jump in and Bill will show you the way.
Another great spot you'll often find step and square dancing is in Chèticamp at the Doryman Pub and Grill. They keep tunes flowing for 4 straight hours on Saturdays from 2 pm-6 pm so there's ample opportunity for some lively steps. You can keep on the lookout for some square dancing in Creignish as well. On Friday nights for stretches in the late summer and fall, the community center hosts great dances and of course, all are welcome.
Around for the big Celtic Colours International Festival? October sees lots of dancefloor action with special events put on during the festival. Maybe you'll stepper'off in Marion Bridge, St. Peter's, Boisdale, Cape North, or even on the Little Narrow's Ferry! They are all over the island and a proud part of our shared heritage. Ask around, grab the local newspaper for details, and check out this local advocate's dedicated music listing site for more: musiccapebreton.com. We'll see you on the dance floor!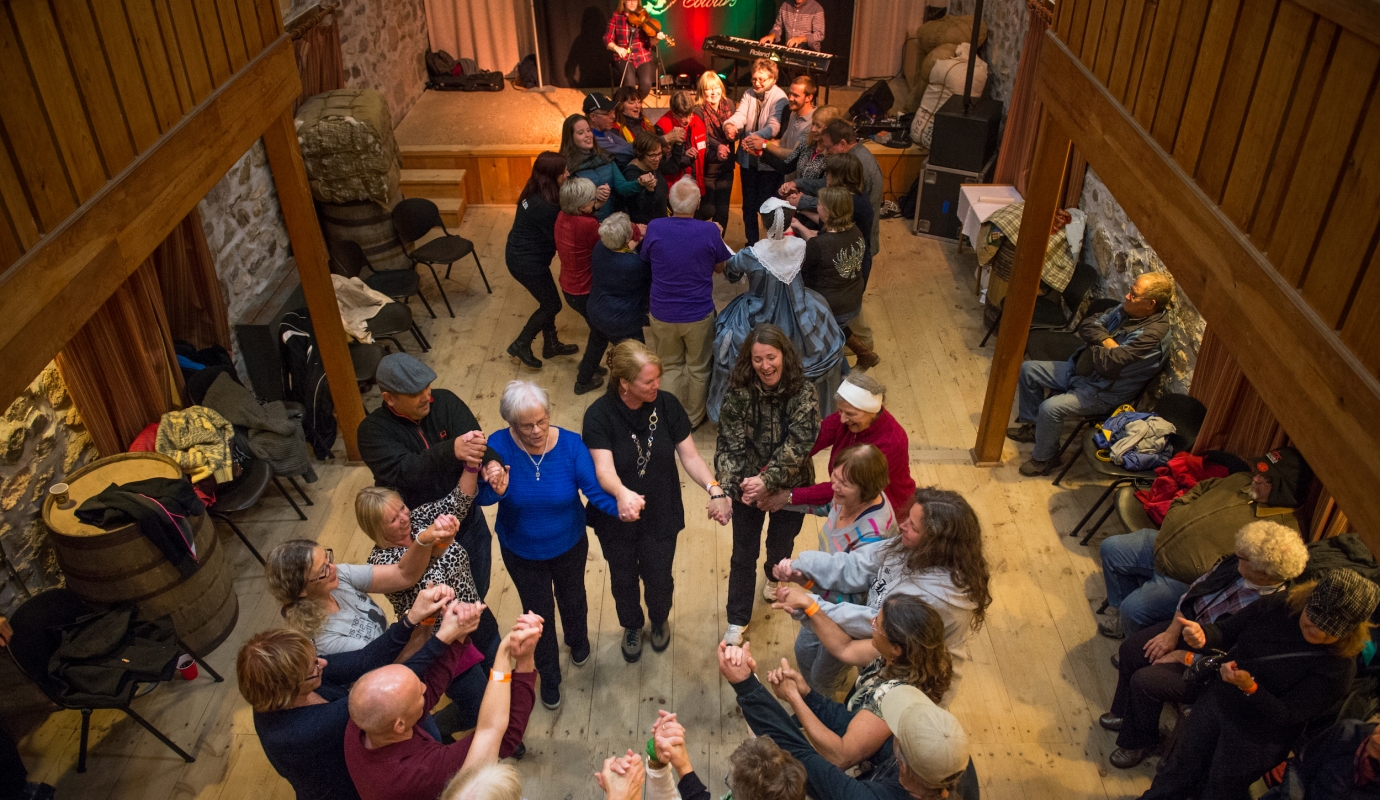 Snowshoe your way through the beautiful hills, valleys and mountains of Cape Breton Island. Winter is no time to hibernate, with so many amazing trails to choose from you'll be way too busy to sleep!
---
Continue Reading