5 Ingredients for a Snowmobiling Getaway!
Craving a snow day adventure? Eager to take the snowmobile for a ride but don't know where to go? Cape Breton Island has you covered. Check out our top 5 ingredients for an epic snowmobile expedition!
1. Choose from over 1100km Trails 
The Cabot Trail is 298km. We encourage people to explore the trail for a least a few days. Imagine what you could see with over 1100km of trails! You could explore for weeks and still see something new every day. The bulk of these trails are in the highlands but don't forget about other areas that are rich in trails, regions like Canada's Musical Coast, Cape Breton's South Coast, and the Bras d'Or Lake regions.
2. Discover Epic Highland Views 
The journey is the destination. It's too true on Cape Breton Island. Cruise along the highlands to remote destinations that will make your jaw drop with winter beauty. The ride will leave you as breathless as the view at the end of the ride. Speaking of views, be sure not to miss not the views in Cape Clear, Meat Cove and Whycocomagh.
3. Warm-up with a Hot Lunch 
After all that time in the blistery cold you'll need something warm to heat you up! Every year, the Dancing Goat Cafe & Bakery provides snowmobilers with hot meals, such as soups and sandwiches – and, of course, coffee. Don't forget to stock up on the coffee!
4. Enjoy Meeting Friends Old and New
Thanks to the Snowmobilers Association of Nova Scotia (SANS) you are never far away from a helping hand. You never know who you will meet along the trail as several local SANS members use the trails daily.
SANS is a club of snowmobiling families throughout Nova Scotia, who are dedicated to the enhancement of organized snowmobiling through trail development, safety, public education, and advocacy.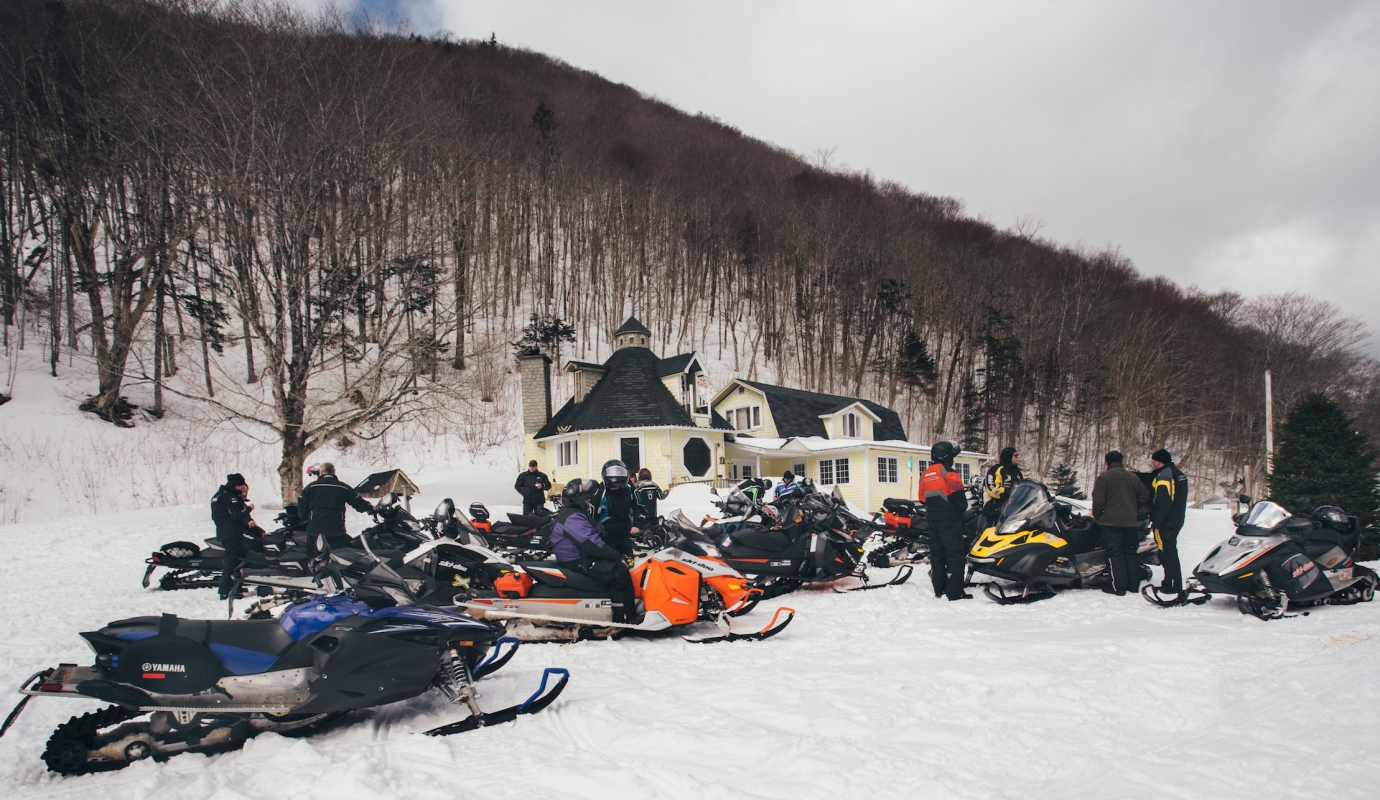 5. Wake Up at a Trail-side Accommodation
Don't stop the fun just because the sun is setting, stay at one of the trail-side accommodations, and be ready to continue the journey after a full night's sleep. Accommodations include:
Iron Mountain Wilderness Cabins, Whycocomagh
Keltic Quay Cottages & Bayside Lodge, Whycocomagh
Raven's Rock Country Cottages, Wreck Cove
Wreck Cove Wilderness Cabins, Wreck Cove
Big Intervale Fishing Lodge, Margaree
The Clairestone Inn, Arichat
Inverary Resort, Baddeck
Valley View Chalets, Margaree Valley
Mabou River Inn, Mabou
Vicar's View, Baddeck
There is no better place to celebrate love than on Cape Breton Island. Want to impress your significant other this Valentine's Day? Of course, you do! Here are some ideas for organizing a Cape Breton Island Valentine's Day that is sure to impress.
---
Continue Reading