Bras d'Or Lake
, Cabot Trail
, Cape Breton Highlands National Park
, Outdoor Adventure
, Winter
10 Cape Breton Waterfalls to visit this Winter
When we think of waterfalls, the image that comes to our mind is tropical pools, cascading water, peace and calmness. But come winter, these waterfalls turn into a completely different scene. We have rounded up our favourite winter waterfalls around Cape Breton Island, which will surely delight the explorer in for you.
Once called Horsetail Falls, these spectacular cascades were renamed Beulach Ban Falls, which is Gaelic for 'White Gorge'. Nestled within the protected borders of Cape Breton Highlands National Park, this short side trip along your journey around the world-famous Cabot Trail is a must-see.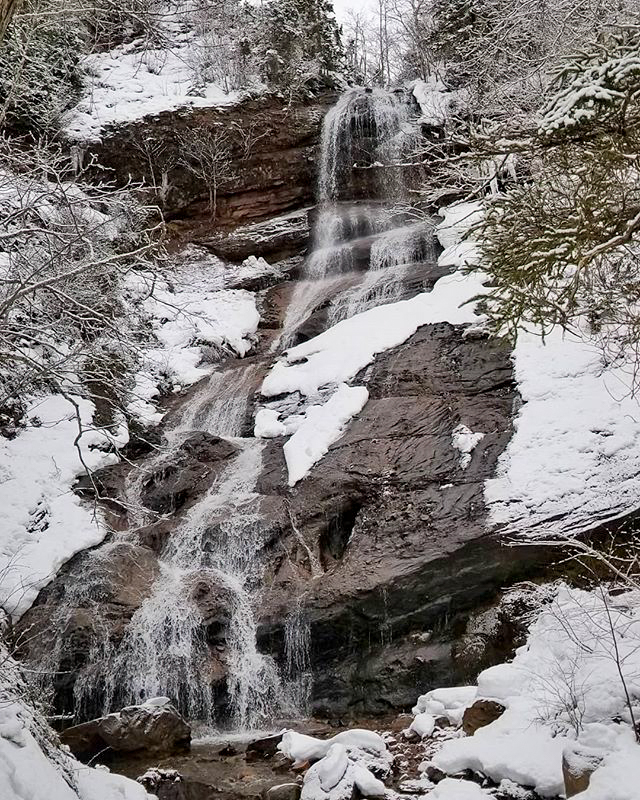 @capebretonhiker
Getting There: From Ingonish, drive north along the Cabot Trail, through the Cape Breton Highlands National Park for about 42.5km, watching for the sign for Beulach Ban Falls. Take the service road on your left for 2.2km to the parking area.
At the Corney Brook Trail, follow a meandering brook through a hardwood forest to the waterfall that marks the end of the trail. You are actually in a box river canyon and there is only one way out! Keep a watch out for wildlife, a variety of birds, snowshoe hare or maybe even a moose. Local Acadians know this brook as "Rivière à Lazare".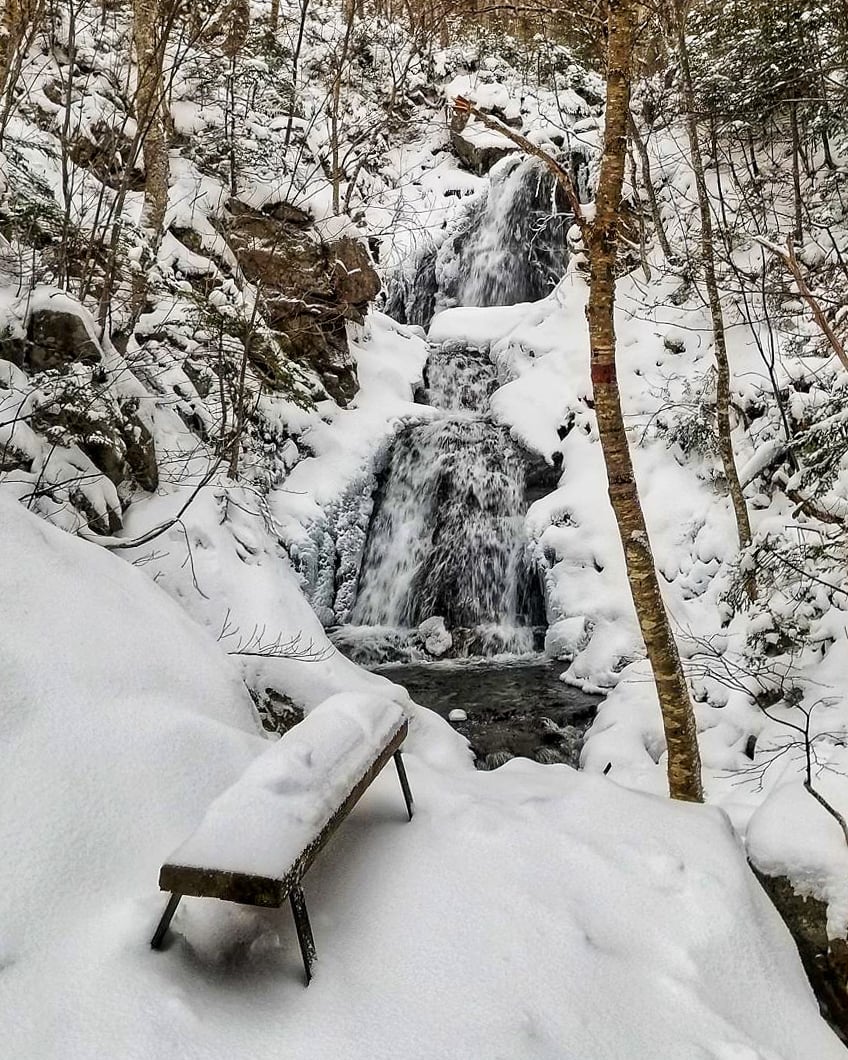 @Capebretonhiker
Getting There: From Chéticamp, drive north along the Cabot Trail, through the Cape Breton Highlands National Park for about 15km. The trailhead is across from Corney Brook Campground at 18573 Cabot Trail, Pleasant Bay.
3. Egypt Falls
Originally named Appin Falls, after the Stewart family of Appin, Scotland, who settled near the falls in the 1800s; Egypt Falls is also referred to as "Pipers Glen Falls". An oddity amongst Nova Scotia waterfalls, these falls are some sixty feet wide while only being twenty-five feet high. They fall over one steep cascade into a pool and then over a second steep cascade to the brook below. The scenery is unrivalled and should definitely be on your to-do list of Cape Breton waterfalls.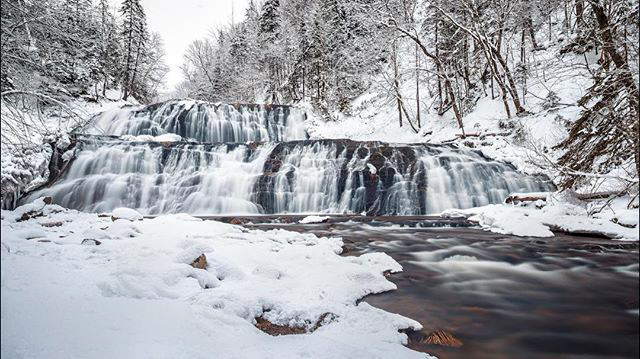 @brintonphotography
Getting There: From Port Hawkesbury, follow the TransCanada Highway (Route 105), north 44km to Whycocomagh, turning left onto HWY395 towards Margaree. Travel approximately 31 km to Upper Margaree, then turn right onto Egypt Road. Follow this road approximately 2km and across from this is Pipers Glen Road, with a tiny white bridge visible. Drive up the road for exactly 0.9 km and keep looking for a small white and blue sign on your right side for Egypt falls.
4. Gillis Lake Falls
Called "Poqtewktekenk" by the Mi'kmaq, Gillis Brook empties MacDonalds Lake and Gillis Lake into the Bras d'Or. There are two waterfalls at this site, one on either side of the bridge. For the lower falls, which are the only falls accessible to the public, follow any of the numerous trails on the downstream side of the bridge.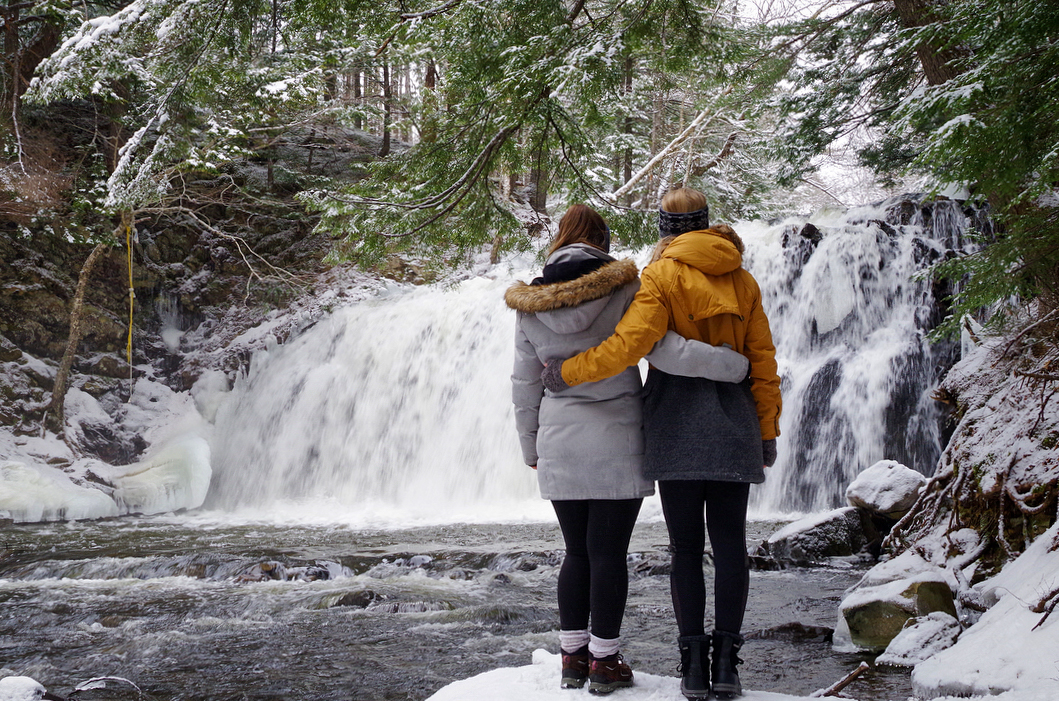 @meredithhigginss
Getting There: From Sydney, take exit 6W off HWY125, southwards onto HWY4. Follow this road 13km and turn right onto HWY216 towards Eskasoni. Turn right again, after 1.9km, onto Gillis Lake Road. Proceed north on this road for 3.5km, until you come to a dip in the road and the bridge over Gillis Brook. Park before the bridge off the side of the road.
This is an exceptionally scenic area of steep and humid river canyons, hardwood forests, highland barrens and a 60ft waterfall! It encompasses one of the last relatively large tracts of intact Acadian forests in the Bras d'Or Lake watershed.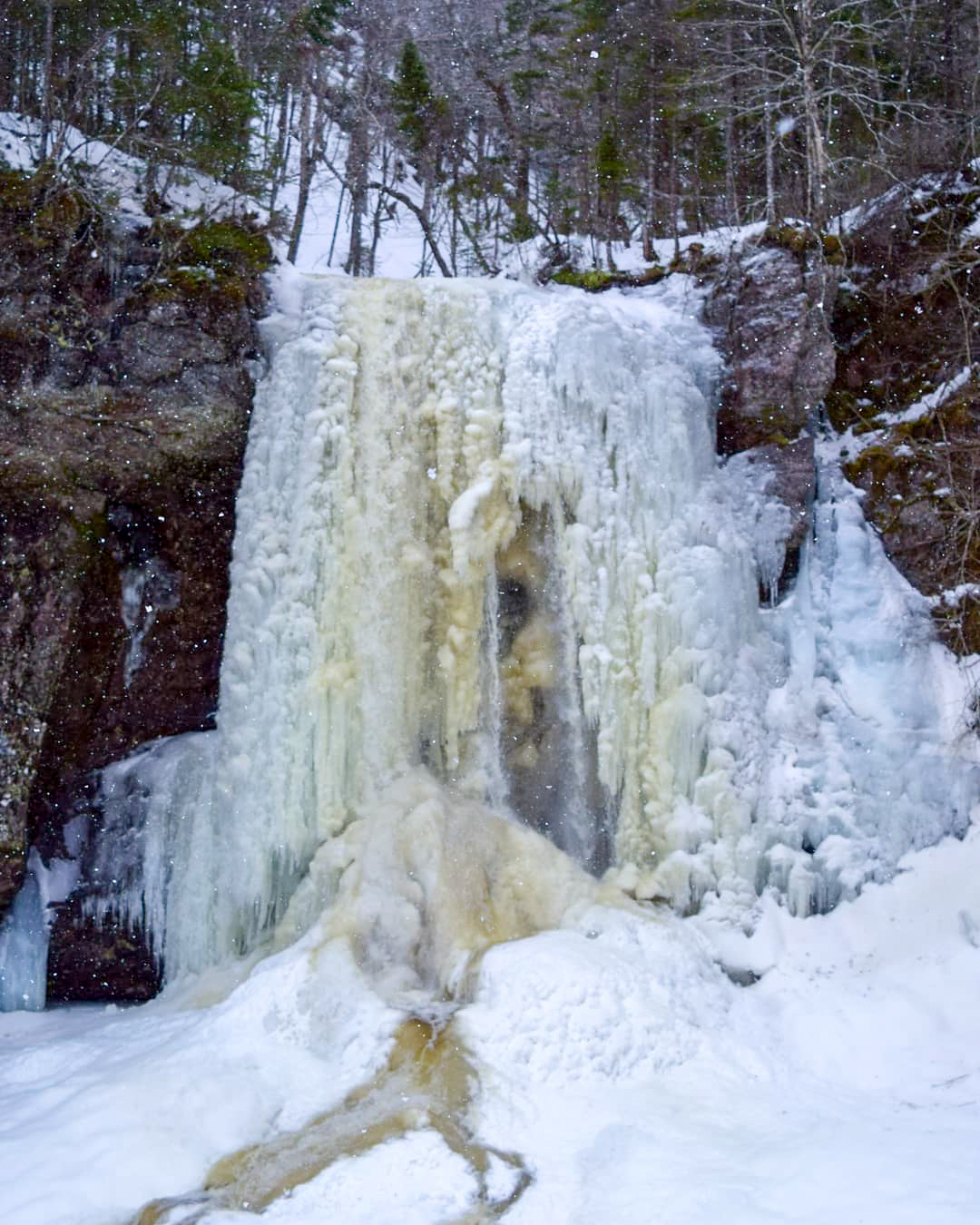 @daveyandsky
Getting There: Highway 105 to Waycobah and/or Nyanza. Take the Humes Rear Rd and park at the end of it near the modern building and baseball field. Start the first 3km of the trail is the continuation of the Humes Rear Rd as it becomes narrower and ultimately an ATV/ snowmobile trail.
6. Mary Ann Falls
Mary Ann Falls is a 20-footer located in Nova Scotia's Cape Breton Highlands National Park and is fairly accessible by car. During the winter, the trails surrounding the area are groomed for cross country skiing.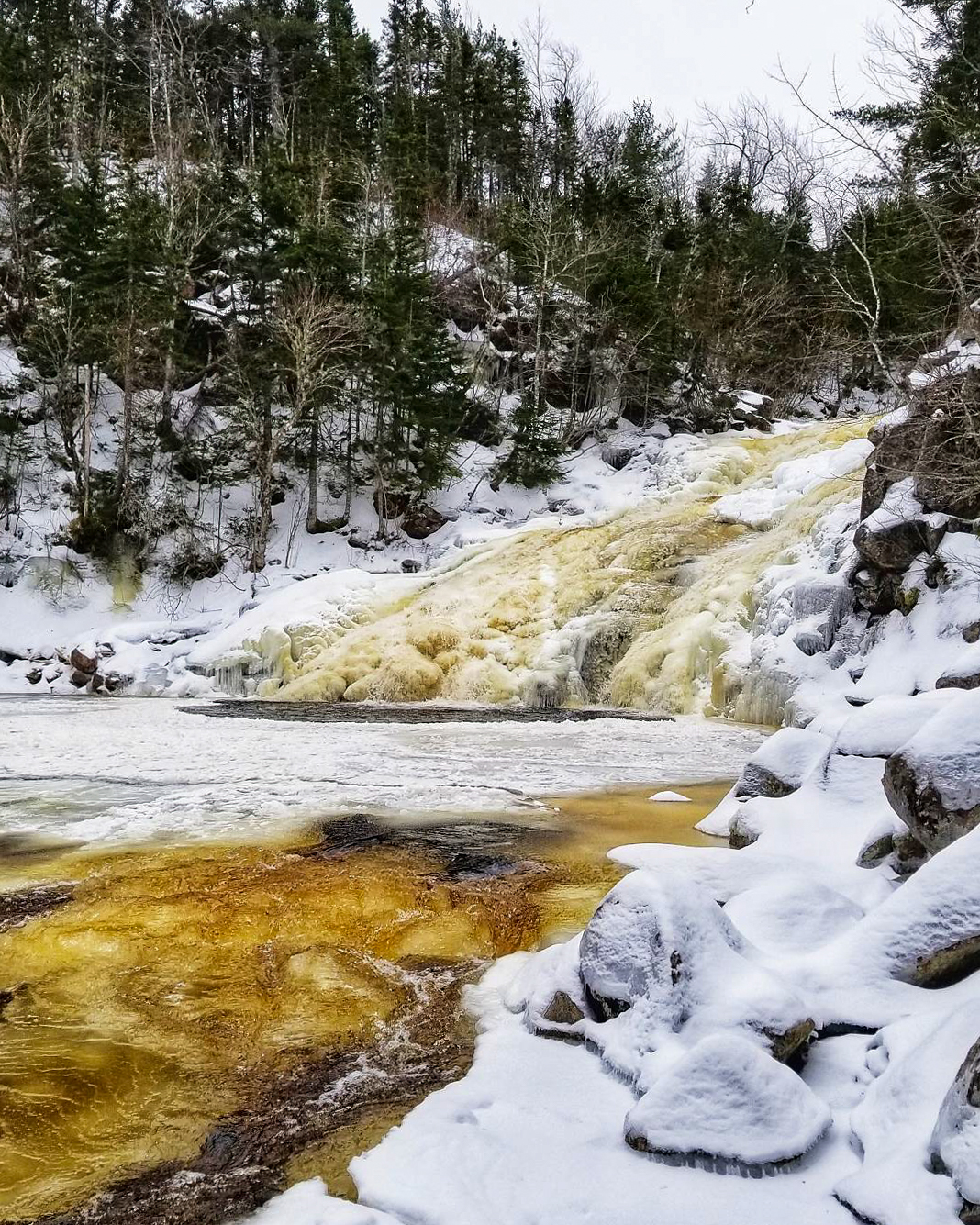 @Capebretonhiker
Getting There: From Ingonish, take the exit off the Cabot Trail that is signed for Warren Lake and Mary Ann Falls. Drive up the dirt road to the parking area, about 6.5km away.
7. North River Falls
A 9km hike along trails used by generations of hikers and anglers along the North River to the highest waterfalls in Nova Scotia. At 104ft, the North River Falls is a spectacular destination to visit.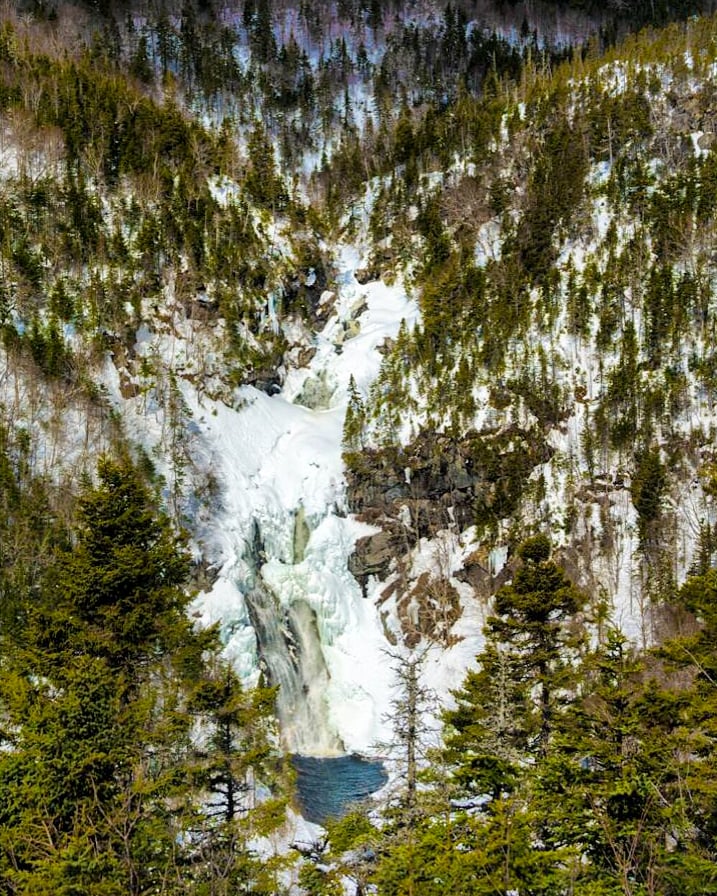 @jason.smithphoto
Getting There: From Baddeck, travel 18km north along HWY105 and turn left onto the Cabot Trail at St. Anns (Next to the Lobster Gallery, towards the Gaelic College). Follow this winding road FOR 17.8km and turn left onto Oregon Road, just past the North River bridge. Follow this road to its conclusion, 3.7km, and park at the North River Provincial Park.
8. Still Brook Falls
Still Brook Waterfall is a waterfall at the mouth of Still Brook, where the brook empties into Black Brook Cove, and so into the Atlantic OceanBlack Brook Beach is a popular swimming and picnic site on the Cabot Trail in the Cape Breton Highlands National Park, 10 kilometres (6 mi) north of Ingonish. Like Ingonish Beach, the sand at Black Brook Beach gets washed away each winter and redeposited each spring.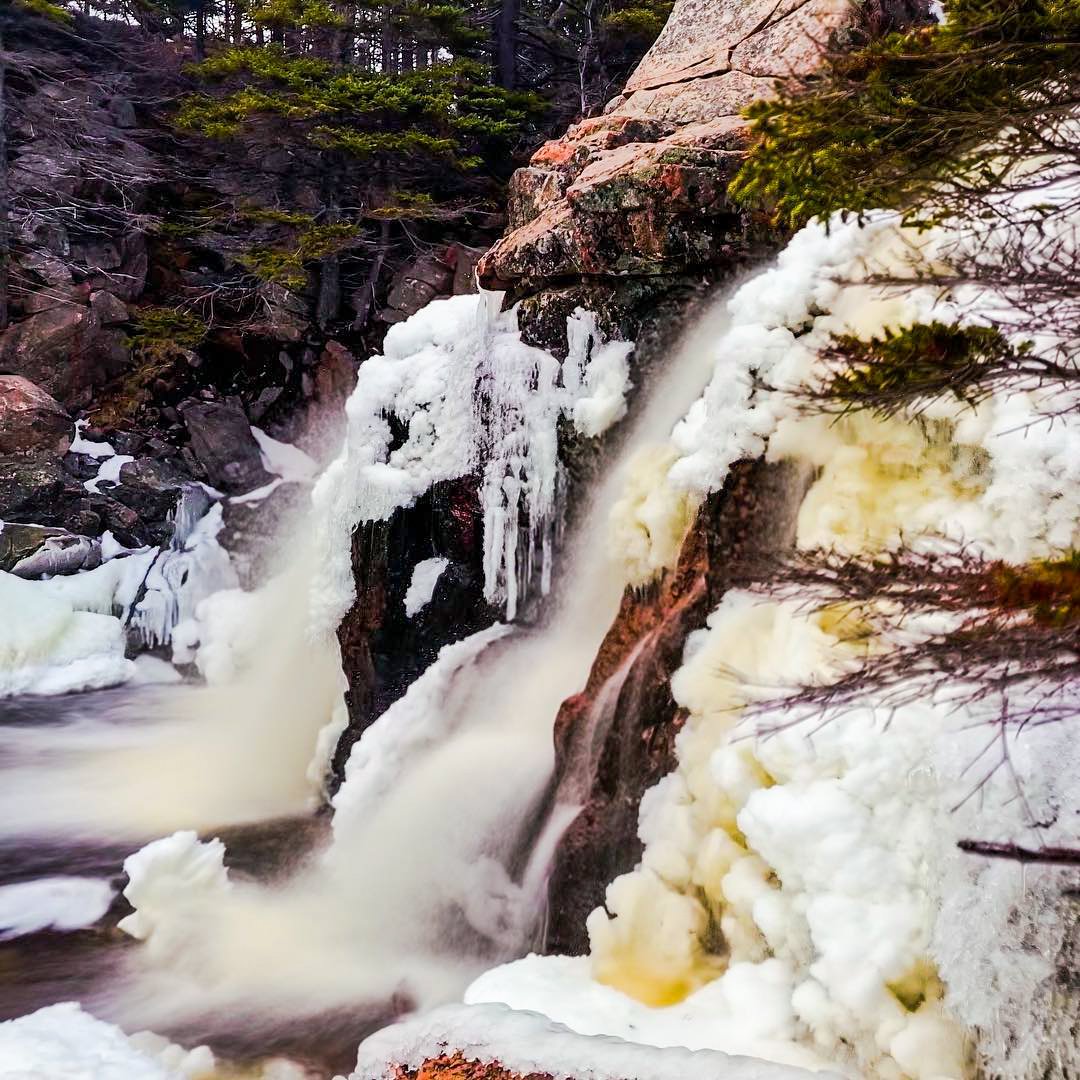 @walleh86
Getting There: From Ingonish, drive north along the Cabot Trail, through the Cape Breton Highlands National Park for about 10km and look out for signs for Black Brook Beach. Still Brook Waterfall is on the left side of the beach.
Gaelic for 'White Water', Uisge Ban (ish-ka-ban) Falls has a four-kilometre trail that passes through a hardwood forest comprised largely of maple, birch and beech woods; and leads to this 50ft waterfall. Uisge Ban is a section of the longer Falls Brook, which flows into the North Branch Baddeck River and eventually to the Bras d'Or Lake.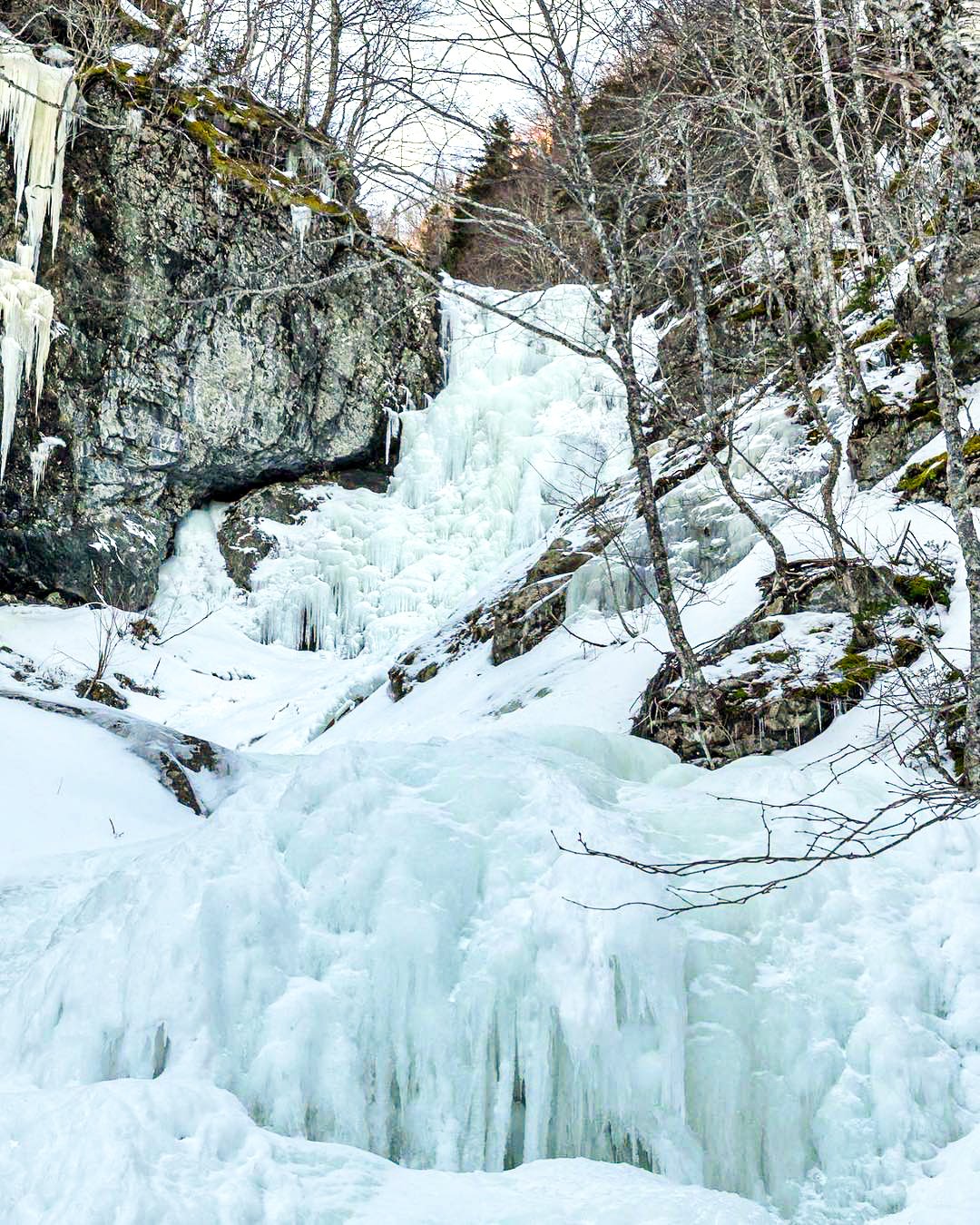 @cyndie_mackinnon
Getting There: From Baddeck, take EXIT9 off HWY105 northward onto Margaree Road. Drive 4km along this road then turn right onto West Side Baddeck Road. Follow this road 6.4km and turn left onto North Branch Road. Drive another 3.5km to Uisge Ban Provincial Park.
10. Washabuck Falls
Washabuck Falls are found tucked in St. Columba Mountain in the Little Narrows area.  The falls flow from a small overhead stream into a curtain and slide type of waterfall.  There is a fairly deep pool below falls perfect for swimming.  On the way to the falls, you'll see some of the best views of the lower Cape Breton Highlands and the mountains of Whycocomagh.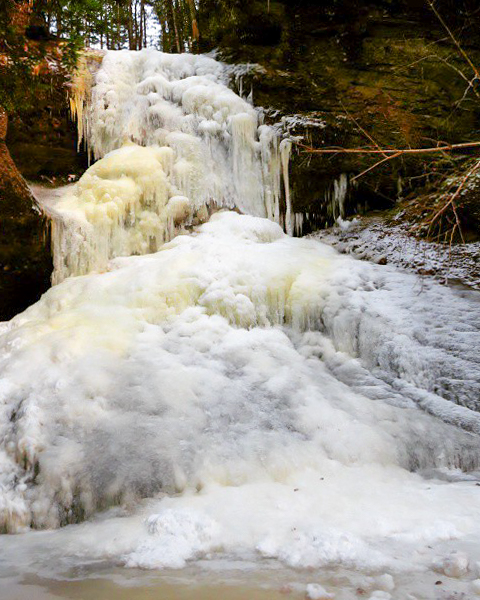 @carleneht
Getting There: From Baddeck, travel southwest along HWY105 (22km, turn left onto Little Narrows Road, taking the ferry across the narrows, then following Little Narrows Rd. north along the shore to the Washabuck Rd. intersection. Cross this road and drive up the hill along St. Columbas Rd, an improved dirt road. There are parking and a visible path on your right-hand side a few hundred meters up the road.