Winter Gems – Adventures on Cape Smokey!
Here's an idea, let's get excited about winter again, just like when we were little kids! That's pretty easy to do here on Cape Breton Island because there are a lot of winter things to get excited about. Want to know the top things on our winter bucket list this year? To experience a cozy cabin getaway and a day of riding Atlantic Canada's first and only gondola at Ski Cape Smokey!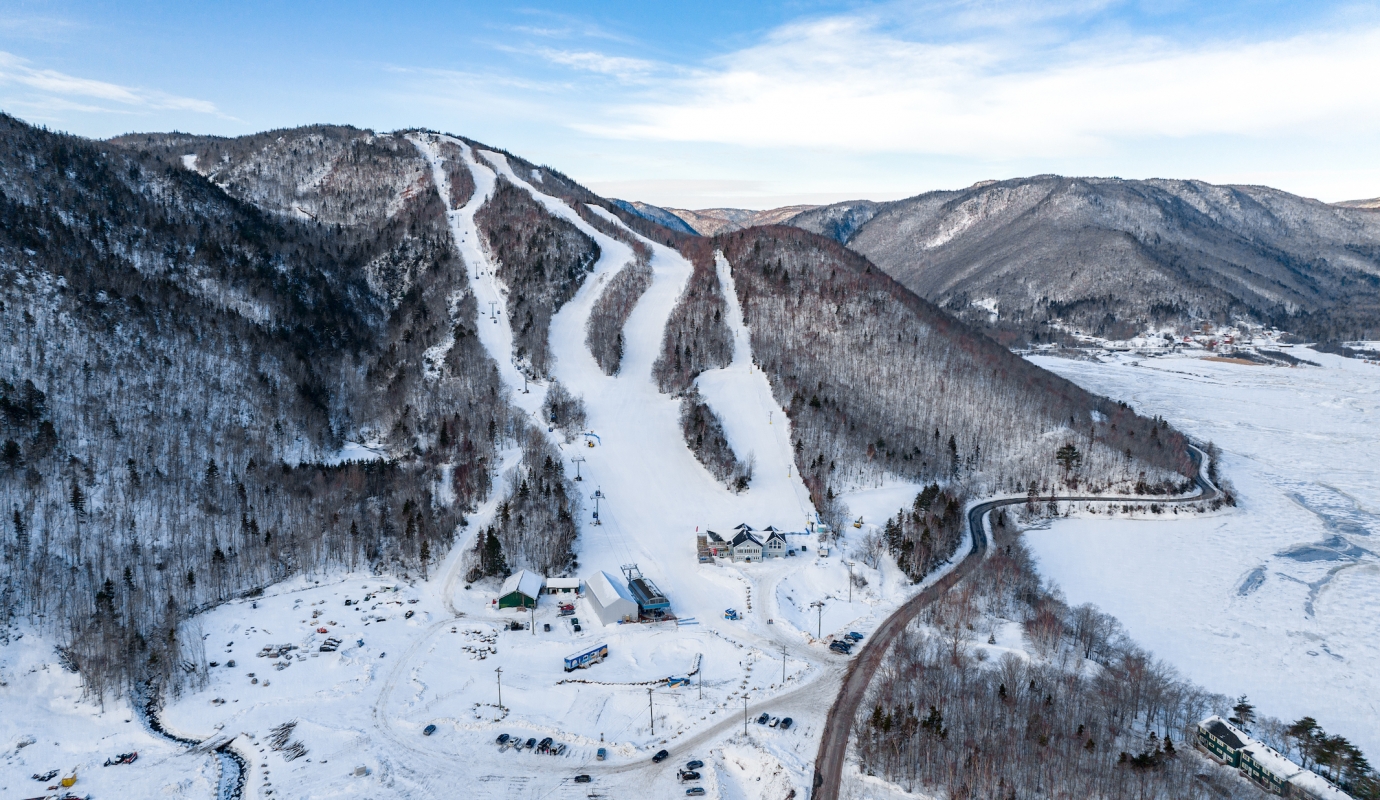 A Woodland Cabin Retreat
Located along the picturesque Cabot Trail in Wreck Cove, we started our winter adventure off by checking into Shoreline Adventure Center and Cottages. Here, they have four woodland cottages nestled between the mountains and the sea. Each cottage is self-catering, has a kitchenette, queen bed, private 3-piece bath, and is dog friendly too! After checking in we enjoyed the peace and quiet this area brings with a glass of bubbly and relaxation time in the cottage before checking out their wonderful snowshoe and fat bike trails right there on the property. Capping off this wilderness getaway, we ended the night with a snowy outdoor bonfire under the stars, followed by a good night's sleep because we had a big day of skiing in the morning ahead! (Ski Cape Smokey is just a 15-minute drive from Shoreline Adventure Center).
Hit the Slopes & Experience an Atlantic Canada First
There truly is nothing better than a sunny day on the slopes! Located in Ingonish, where the land meets the sea, Ski Cape Smokey has groomed up some serious winter fun and is home to Atlantic Canada's first and only gondola.  Here, you can get equipment from their awesome selection of rentals, snowshoe the trails on top of the mountain, spend the day skiing and snowboarding the hill, or cozy up in the lodge with music and eats. Whether you're a ski enthusiast or just learning, every run is breathtaking, and enjoying the magnificent gondola views is a top thing to experience here on Cape Breton Island. Not able to visit this winter? That's okay! Cape Smokey is a year-round mountain playground where visitors can experience the gondola, and marvel at the Highland views in every season. We highly recommend adding it to your fall colours itinerary.
Fuel Up with Onsite Eats
A day of shredding the slopes will work up an appetite. Thankfully, Ski Cape Smokey has an onsite kitchen that offers yummy eats from 9 am – 4:30 pm each day, including breakfast from 9-11 am. If you desire an apres-ski beverage, they have their very own beer! The Cape Smokey Bohemian Pilsner is made from Czech hops and malt by their Czech brewmaster. #Delish. They also carry other alcoholic and non-alcoholic beverages, and if you're like us, a warm hillside hot chocolate will be calling your name by mid-day!
We hope this blog inspires you to get outside this winter and experience these two incredible Cape Breton Island winter gem locations! Happy travels, and don't forget to enjoy this season's snowy beauty while it lasts.
When you think of a "weekend getaway" you don't have to travel very far as there are so many incredible places to find adventure in Cape Breton.
---
Continue Reading