Winter Adventures Around the Chéticamp Area
Chéticamp and the surrounding communities is one of my favourite places along the Cabot Trail. The area is home to some fantastic trails, restaurants and places to stay, and regardless of the season you will always find something to do. If you're interested in planning a trip to the area this winter, I highly recommend the following spots. 
If you're looking for a good spot to bust out the snowshoes then I highly recommend the Acadian Trail. This trail is located right next to the Park's Visitor Center in Chéticamp. The trail has two options, you can either do the full loop or just hike up to the first look off or red chairs at the top. Either way the views will not disappoint you! You have a perfect panoramic view of the Atlantic Ocean, Chéticamp River and the Cabot Trail. The full loop is about 9km, while the first look off is a short 2-3km up.
If you head north from Chéticamp to Pleasant Bay you'll find this incredible hidden gem called Roberts Mountain. You can find the trailhead by searching it on google maps or the AllTrails app. This trail is only 2km up to the peak and makes for one incredible winter landscape view. As you look one way, you're greeted with views of fishing villages along the ocean. And if you look the other way, you can gaze out into the rolling Highlands.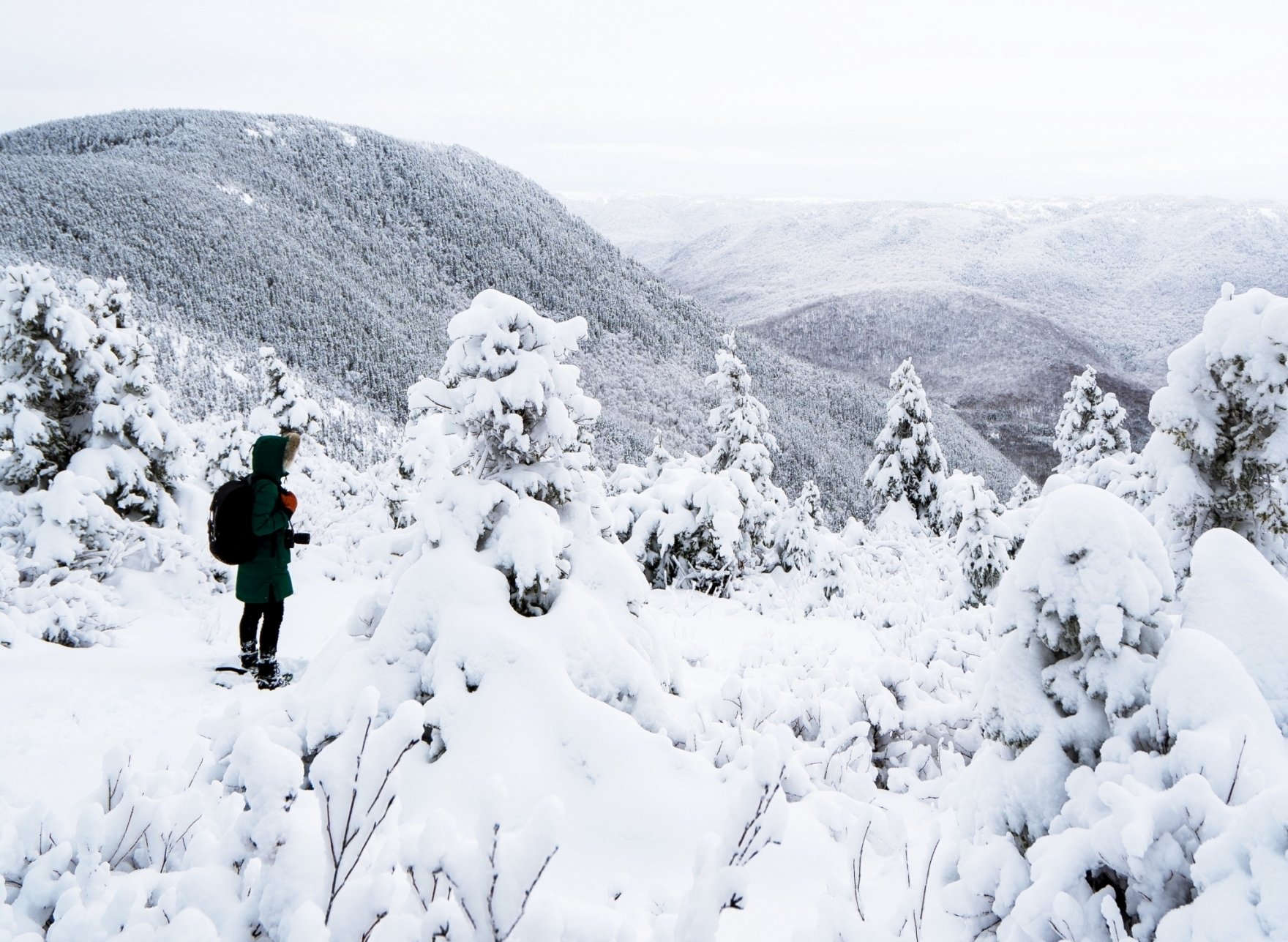 After all, that snowshoeing Le Gabriel Restaurant & Lounge is a great post-adventure spot to grab a bite to eat. Located right on the Cabot Trail in Chéticamp. Whether you're in the mood for pub-style food, Acadian-style seafood, steaks, pasta, or desserts. Their menu has lots of options to pick from. Le Gabriel Restaurant & Lounge is also a lounge with lots of varieties of beverages to choose from to quench your thirst.  From its lighthouse fishing town vibes on the outside to its sport-style atmosphere on the inside, this place hit the spot after a day of adventuring.
Conveniently located just down the road from Le Gabriel Restaurant & Lounge, is Auberge Baywind Suites. The suites are located right on the Cabot Trail. With comfy beds, relaxing living rooms, whirlpool tubs, and balcony views overlooking the Chéticamp Harbour. This made for a great home base while adventuring in the area. They're a family-operated business and we're super friendly and accommodating.
Time to leave Chéticamp and head back home? If you're heading south from Chéticamp, The Dancing Goat Café & Bakery in Margaree Valley is directly along the Cabot Trail. Grab yourself a coffee and some snacks for your road trip home. This is an incredible café and bakery that makes great hot drinks, has delicious fresh baked goods and a variety of menu options for food. There is also lots of snowmobile trails in the area so this is a perfect pit stop for all winter adventures!
When you think of a "weekend getaway" you don't have to travel very far as there are so many incredible places to find adventure in Cape Breton.
---
Continue Reading