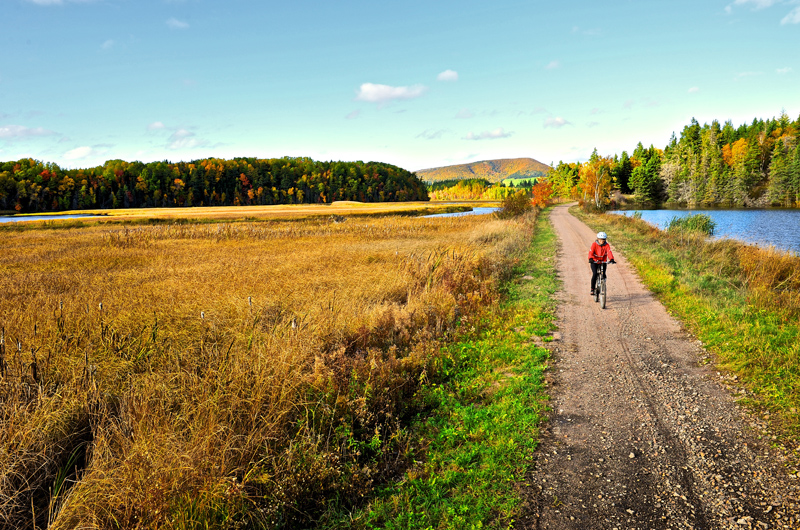 Mabou Rivers Trail (part of Celtic Shores Coastal Trail)
Length: 19.6 km (12.2 mi) – Zutphen Farm Southwest Mabou River to Blackstone (linear)
Cell Service: Yes
Dogs Permitted: On Leash
Trail Surface: The first 4 km are unsurfaced; the tread becomes excellent for the next 13 km through the village of Mabou.
The Mabou Rivers Trail section of the Celtic Shores Coastal Trail can be accessed from Route 19 at four points. The first access point (Trail Marker 55) is on Route 19 about halfway between Port Hood and Mabou. Parking is available on the left side of the road at this junction. Entering here, you will travel several kilometers through a canopied section, but soon the trail opens up and meanders alongside the South West Mabou River. This section of the trail is very pretty in all seasons, offering the perfect mixture of meadows, woodlands, rolling hills and rivers. This landscape welcomes an abundance of wildlife and interesting vegetation. Keep an eye out for soaring bald eagles and Canada Geese, among others.
The next trail junction is off Route 19 at the West Mabou/Little Mabou/Colindale Road. There is a very scenic parking area where one can take in the sweeping views of the Mabou Harbour and mountains while resting at the picnic tables. The adjacent West Mabou Road takes you to West Mabou Beach Provincial Park. Set among rolling sand dunes, West Mabou Provincial Park offers several trails, a stocked fish pond and a picnic area.
After the trail leaves this beautiful roadside location, it runs parallel to Route 19 before reaching its third junction on Route 19, just outside the village of Mabou. The trail continues along the inner part of Mabou inlet and river before leading you through the settlement of Glendyer and to Blackstone.
The trail features wayfinding signage and interpretive panels, which outline the history and culture of the surrounding communities.
Don't miss the Mabou Farmers Market, where over 40 vendors offer up delicious food, beautiful jewelry and art, and of course live music!
Trailhead: West Mabou Trailhead Kiosk/Access/Parking (11040 Route 19, Mabou)
GPS: 46.022502, -61.453960
Experiences Near By