Ann Schroeder Studio – Fine Art Quilts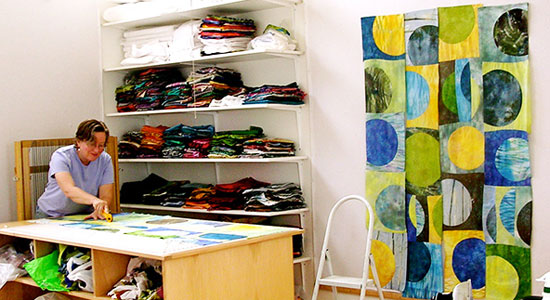 Contact
902-945-2744
ann@annschroederstudio.com
annschroederstudio.com
Region: Ceilidh Trail
Community: Mabou Harbour
A spectacular sea view and a warm welcome await you at Ann Schroeder's home studio.
In Mabou Harbour, winds blow fiercely, the ocean is bright or dark, hillsides sprout hay bales, and fiddlers play under starry skies. This rich brew infuses Ann's painterly wall quilts that evoke Cape Breton's landscapes, weather, and music.
You'll also find a large assortment of unique hand-dyed silk, cotton, and rayon scarves.
Nearby attractions include the Red Shoe Pub, Mabou Farmers Market, beautiful West Mabou Beach, Glenora Distillery, and Cabot Links golf course.
About the Artist
Ann's fine art quilts have been shown at Quilt National in Athens, Ohio, the…
Read More