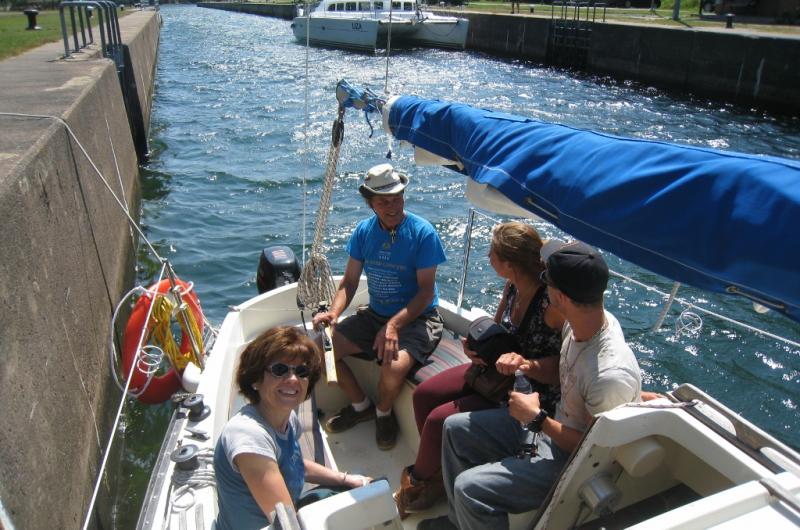 YouSail Through a Biosphere Reserve and Mi'kmaq Culture
The Bras d'Or Lake in Cape Breton is one of the world's premiere in-land salt water seas and Canada's largest in-land sea.  The Bras d'Or Lake has a great reputation, by sailors and boaters alike, for being one of the greatest sailing destinations of the world.  With its sheltered waters, summer water temperatures averaging 75.2-78.8F (24-26C), South West prevailing winds, and fog free water, you can see why the Bras d'Or Lake has acquired such a reputation.
Set sail from St. Peter's on part of the UNESCO Bras d'Or Lake Biosphere Reserve.  Your captain, Gordon Kerr will teach you the ropes of sailing and give you a chance to try it for yourself aboard his 25 foot, traditional sloop, Cuna Mara.  This adventure departs from the lake side of the St. Peter's Canal National Historic Site, a historic locks system that connects the Atlantic Ocean to the Bras d'Or Lake.
The Bras d'Or Lake, an inland sea of partially fresh and salt water, is home to a variety of sea life and birds such as bald eagles and the great blue heron. After sailing the sparkling waters, we'll find one of the lakes' many sheltered, secluded coves and drop anchor. Enjoy a picnic lunch and perhaps go for a dip in the cove (snorkel sets provided). We'll do a few scientific water tests (eg. pH&temp) and sample the biodiversity of the area (e.g. plankton tow) while listening to tales of the local history.
For the full day adventure, we can sail to and dock at Chapel Island, part of a local Mi'kmaq community, Potlotek First Nation, the location of the historic Chapel Island First Nations Mission. This is the location of one of the first contacts between the native North American people and the Europeans.  We might even meet with a local guide to hear stories of the Mi'kmaq knowledge keepers, some of their legends and history.
Experience Includes:
         Guided sailing tour of the Bras d'Or Lake, part of the UNESCO Biosphere Reserve
         Brief sailing instruction with the opportunity to take the helm
         Picnic lunch (locally sourced, as available) and beverages onboard 
         Swimming and Snorkeling
         Biological sampling (e.g. plankton tow)
         Guided hiking tour of Chapel Island First Nation Mission
Tour Length:
–          3 hours – price $100 each
–          6 hours – price $150 each
Experiences Near By