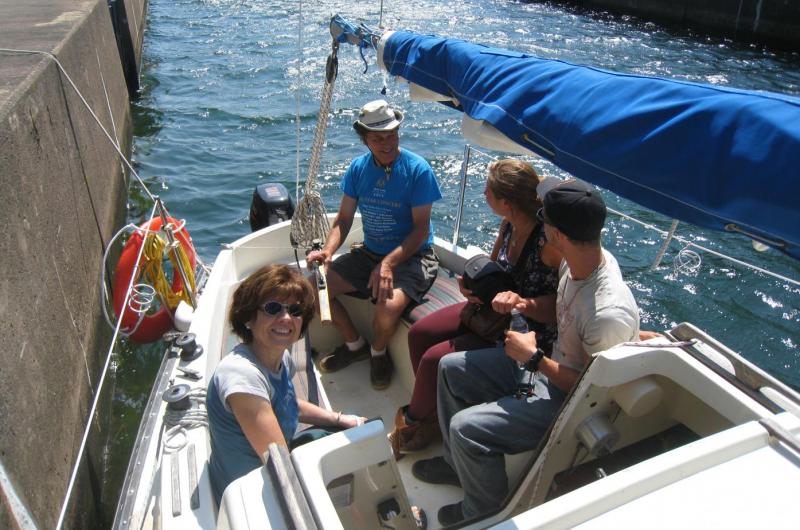 Sail Through Time and the St. Peter's Canal
From saltwater breezes to the stunning beauty of the famed Bras d'Or Lake, experience the Cape Breton coast by boat. Come aboard our traditional sloop, Cuna Mara for a motorized tour of St. Peter's Canal National Historic Site connecting the Atlantic Ocean and Bras d'Or Lake, a UNESCO Biosphere Reserve. Leaving from the lake side of the canal, have your camera ready for the opening of the canal bridge.  You'll see spectators excited to watch a boat pass through the canal, and don't be surprised to see swimmers jumping into the canal, as we show in our video.
Next we enter the lock. Your skipper and Parks Canada guide will explain how the locks work and the important role they played in the area's history, dating back to the 1600s when Nicholas Denys developed the concept of a "haulover" road and the development of Cape Breton Island.  Have some hands-on fun, either navigating the canal using the sloop's tiller or perhaps operating the canal gates. Keep an eye out for mackerel fisherman alongside the entrance to the canal.
Once through the canal, we'll motor into the prevailing wind through the buoyed channel of St. Peter's Bay. Here you'll experience the smooth swell of the Atlantic Ocean.  Sightings of seals and sea birds are common on the tour. Touching on our cultural heritage, we'll passing by the brickworks site that provided bricks for the Fortress of Louisbourg in the 1700s.  Turning around we will follow the swell back to the canal and try our hand at biological sampling (*note: please elaborate on what this experience is for the visitor) in the entrance to the Biosphere Reserve before returning to our starting point.
You will also have an opportunity to learn about biological sampling using standard tools of the trade while we collect historical data to monitor the state of the Biosphere Reserve.
This 1 ½ hour tour is popular with couples, friends and young families. Children under 12 ride for free and bottled water is provided.
Tour Length:
1 1/2 hours – Price: $50 each
Experiences Near By