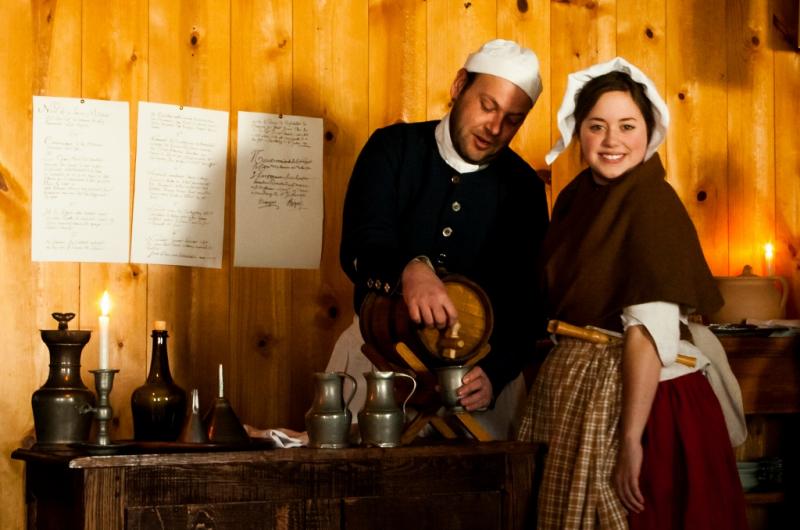 Rum: The Spirit of Louisbourg
Be part of a colonial tradition: Experience the taste and aroma of one of the most popular drinks of 18th century Louisbourg. After an absence of 300 years, rum has once again taken up residence within Louisbourg's stone walls. Step into the Hotel de la Marine on a Fortress Rum™ Tasting experience. Learn the importance of New France's 18th century rum trade – how sugarcane and its alcoholic offshoot influenced trade, shipping, and slavery in colonial North America. As a vital Europe-Caribbean trading port, much rum once passed through Louisbourg's gates, traded for Nova Scotia fish and lumber. Learn not only how rum is made, but how the favourite imbibement of Louisbourg's middle or upper class tasted as you sample an authentic Rum Punch recipe from the 18th century. The taste is authentic, the feeling is refreshing and the location is unique. À la santé and cheers!
Parks Canada has partnered with the Authentic Seacoast Company who created a special edition rum, maturing in oak barrels in the Magazin du Roi (storehouse) at Fortress of Louisbourg National Historic Site. Fortress Rum™ captures the authentic spirit of New France's historic rum trade.
Fortress Rum™ Tasting is offered daily from July 1 to September 5, 2016, in English and in French (35 minutes).
The Fortress Rum Tasting experience is part of Nova Scotia Good Cheer Trail, Canada's first brewery, winery, and distillery trail.
Fortress Rum™ is also available at the Fortress' period restaurants and boutique, throughout Nova Scotia at select Nova Scotia Liquor Corporation (NSLC) stores and other fine spirits retailers. Read more about Fortress Rum™ at: http://www.fortressrum.com/
Experiences Near By