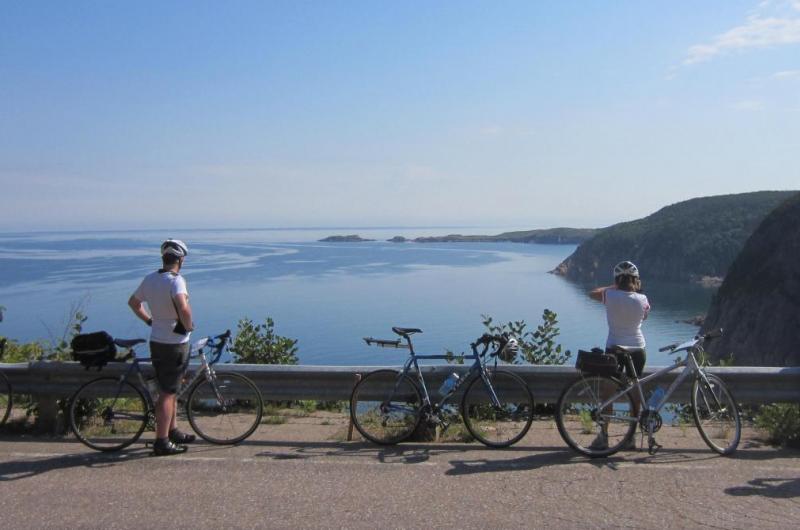 Cabot Trail Bike
This is one of the world's greatest rides; one that all touring cyclists should have on their "must-ride" list! The beautiful coast – the most dramatic in Nova Scotia – meets the breathtaking highlands in ways that make you appreciate both to the fullest and the scenic magnificence of the paved trail can be really savoured and fully appreciated at the speed of your bicycle. The landscape and the people may demonstrate to you why Nova Scotia's name means New Scotland.
You will have opportunities to explore the valley of the Margaree River, rich with salmon and its pursuit, to watch whales from a zodiac that gets you up close, to play golf on the famous Highland Links, and on some days to expand your rides onto beautiful wooded trails, all while staying at inns famous for their individuality and charm. Many find the highlight a ride through beech woods to salmon pools, where salmon sometimes leap on their way upstream, and you can swim in deep pools below clear waterfalls. The cycling, although manageable by most cyclists (and van-supported for the rest!) includes some challenging sections.
Combining such awe-inspiring scenery, out-of–the-way charm, unusual inns, exceptional cuisine, and particularly friendly locals makes this loop ride an exquisite experience you simply must have!
Guided Package Includes:
Six day, five night cycling tour through scenic regions of Cape Breton Island.
Five breakfasts, three picnic lunches, four dinners
Luggage handling
Van and guide support
Maps and route notes
Guided Cost: US 1585, CA 1995
Self-Guided Package Includes:
Six day, five night cycling tour through scenic regions of Cape Breton Island.
Four – five breakfasts
Luggage handling
Daily consultation with your driver for lifts, etc.
Maps and route notes
Self-Guided Cost: US 1425, CA 1795
Trip history:
Nova Scotia is Freewheeling's home province. Founders Cathy and Philip exercised their exploratory spirits here first, and they still have a deep love for its subtle beauty, relaxed lifestyle, and friendly people. You will benefit from an intimate knowledge of Nova Scotia by most Freewheeling Adventures staff.
Experiences Near By