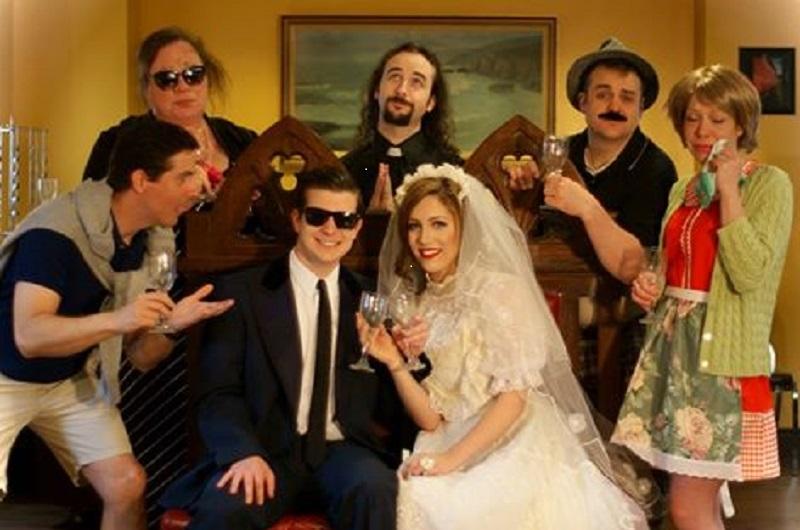 My Big Fat Glace Bay Wedding
Date: Thu, Jun 16 2016 - Wed, Aug 17 2016
---
Here comes the bride!
Staff at the Savoy Theatre are very busy getting ready for what's sure to be one of the craziest weddings of the summer season. My Big FAT Glace Bay Wedding Dinner Theatre opens on June 16, in the always-inviting lobby of the historic Savoy. Tourists and locals alike are cordially invited to book their tickets soon and bear witness to some great laughs, more than a few toe-tappin' tunes, delicious reception food and maybe, just maybe, a wee bit of disaster. Of course, that's what happens when you try to pair a mainlander with a Cape Bretoner. How can this "mixed marriage" possibly survive? Will these Cross-Causeway lovers say "I do!" or will the father of the bride find his little girl a man from the Bay?
"Everyone loves wedding drama, so we've got a little bit of that of course. Then we 'marry' in some great tunes and good food," jokes Carol Anne Gillis, who co-directs the show with Colin Appleton. "…and the cast is energetic and open-minded, so they've been on board with just about anything. Safe to say, in sickness or in health, we vow to deliver a memorable show."
Show-goers/wedding guests will be served a delicious three course meal and can say "I DO" to one of three menu choices: stuffed chicken, maple-glazed salmon or a vegetarian option, served with potato and veggies, dessert, and hot tea or coffee. Ticket price is $49 each and includes the meal, fees and taxes. See a great show, enjoy a great meal…all in one spot.
Featuring a talented cast of zany characters – including: Colin Appleton, Ron Newcombe, Angela Duhamel, Brandon Carabin, Katherine Woodford, Matthew Earhart and Carol Anne Gillis – these dinner theatre dynamos will perform heartfelt 60s, 70s & 80s melodies amidst arguments, predicaments and wedding vows galore. My Big FAT Glace Bay Wedding runs June 16 & 23, July 10, 17 & 20 and August 16 &17 at the Savoy Theatre. All shows 7pm.
Call to book your reservation today. TICKETS ON SALE NOW!
For more Information or to book: Call Savoy Theatre 902-842-1577 Visit: www.savoytheatre.com
Experiences Near By