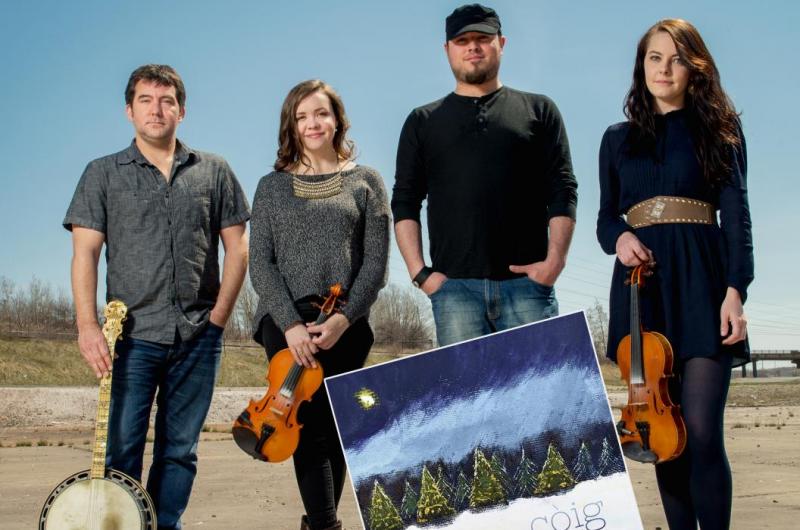 Coig Christmas Concert at CMIC
Date: Fri, Dec 16 2016
---
Get in the spirit with Chrissy Crowley (fiddle, viola), Jason Roach (piano), Rachel Davis (fiddle, viola, vocals) & Darren McMullen (guitar, mandolin, banjo, bouzouki, whistles, flute, vocals) as they perform music from the band's Carols Christmas CD and more! Enjoy an intimate evening with one of Cape Breton's premier bands at the Celtic Music Centre.
Coig, one of Atlantic Canada's premiere traditional groups, is an ensemble of East Coast musicians originally forming to promote the Celtic Colours International Festival. In one explosive coming together, what was once solo acts on stage has amalgamated into one electrifying super group, picked as Penguin Eggs magazine's 2014 #1 New Discovery internationally. With the fiery Celtic style as its musical core, Còig easily shifts between century old tunes of past generations to original and contemporary compositions, featuring the band's range of over a dozen instruments (vocals, fiddles, piano, guitar, banjo, mandolin, viola, bouzouki, whistles, and more). With driving tunes, haunting songs, and infectious energy, Coig is an unparalleled musical force.
Busy solo schedules make Coig appearances quite rare, so don't let your chance to see them pass you by!
Showtime: 7:30pm  ||  Doors & Bar open at 7:00pm
Fully licensed bar. General seating. Open to all ages.
Tickets available online, by phone (902-787-2708) or in person on Sundays from 2:00-5:00pm.
Experiences Near By