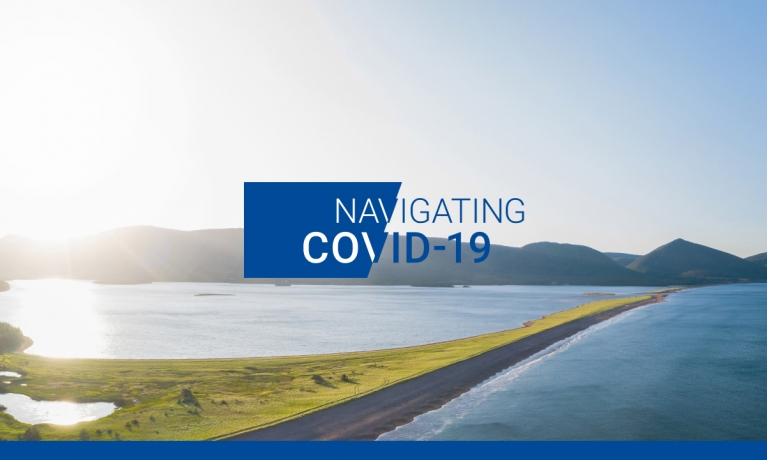 Here for
Cape Breton's
Tourism Industry
Official Tourism Resource & Information for the Coronavirus Disease
(COVID-19) Pandemic
How is this affecting the Cape Breton Island Tourism Industry
Food Services
As of Thursday, March 19, restaurants were restricted to take-out and delivery orders only. All drinking establishments, winery, and distillery tasting rooms and craft taprooms were told to close (private liquor stores can operate, and craft breweries, wineries, and distilleries can still sell their products from their storefronts).
UPDATE: The province has released that these establishments will be able to reopen if they are ready and choose to do so on June 5, 2020.
Parks Canada
Starting on June 1, 2020, Parks Canada places on Cape Breton Island, and Canso will begin to offer limited access and services. What's open on our Parks Canada sites starting June 1? Learn More
Starting on June 22, Parks will gradually reopen camping facilities starting with select self-registration camping areas with limited capacity. Additional camping will reopen in phases, at reduced occupancy, throughout June and July. Visitors are required to have a reservation in order to camp at a Parks Canada place. Parks Canada recognizes being in nature provides important physical and mental health benefits. Going outdoors, including camping overnight, is a great way to maintain health and wellness, so long as everyone follows physical distancing practices.
Visitors should note that there are limited washroom facilities available in select areas.  For more information on camping this season, please click here to learn more.
Group activities and public events are suspended until further notice. For current pass holders, Parks Canada will automatically extend the end date of Discovery Passes for the full duration of the suspended period.
To learn more about visiting Parks Canada locations during COVID-19 click here or see the FAQ link below.
Events and Conferences
We don't know the full impact this outbreak will have on the 2020 tourism season on the Island, but it has already had a significant effect:
The Team Japan training camp that was to take place in Port Hawkesbury in advance of the IIHF Women's World Cup has been postponed to 2021;
Science Atlantic conferences and Psychology of Language Learning conference at Cape Breton University have been cancelled;
The Nova Scotia Federation of Municipalities has cancelled it's spring conference which was scheduled for May in Sydney;
The cruise season has been delayed until October 31, 2020;
The Vince Ryan Memorial Hockey Tournament and the Wallace Bernard Memorial Native Youth Hockey Tournament have been cancelled;
The Canadian National Darts Championships, both Youth and Adults, have been cancelled;
The Cabot Trail Relay has been cancelled for the first time in history;
Granville Green Concert Series has been cancelled for this year;
Senior Little League Canadian Championships have been cancelled;
National Youth Track and Field Championships have been cancelled;
Marine Atlantic Argentia-North Sydney route has been cancelled for the summer season;
Celtic Colours International Festival will be held online only for 2020; and
Bookings are being effected.
Destination Cape Breton's Recovery Plans
We've been working to ensure that when the time is right we are ready to promote and encourage visitors to our beautiful island.
On May 1st we provided an update that included:
Industry Communication
Advocacy for the Industry
Contingency Planning, and
Short-Term Initiatives