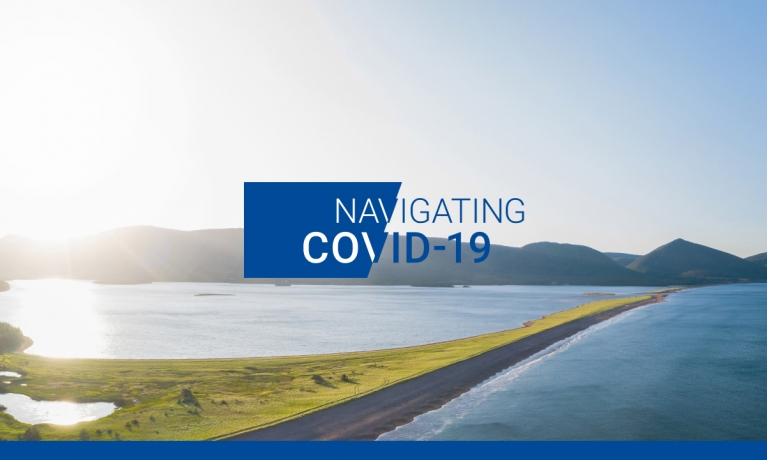 Here for
Cape Breton's
Tourism Industry
Official Tourism Resource & Information for the Coronavirus Disease
(COVID-19) Pandemic
How is this affecting the Cape Breton Island Tourism Industry
Food Services
On June 5th, 2020, the Government of Nova Scotia announced that most businesses that were required to close under the public health order can reopen. Businesses must follow protocols in the plan that is tailored to their sector. This includes following public health protocols to ensure physical distancing, increased cleaning and other protective measures for staff and customers.
The following can open if they are ready and choose to do so:
restaurants for dine-in, as well as takeout and delivery

bars, wineries, distilleries and taprooms

lounges are not permitted to reopen at this time 

personal services, such as hair salons, barber shops, spas, nail salons and body art establishments

fitness facilities, such as gyms, yoga studios and climbing facilities 

veterinarians
Other health providers can also reopen on June 5, provided they follow protocols in their colleges' and associations' plans, as approved by public health. These include:
dentistry and other self-regulated health professions such as optometry, chiropractic and physiotherapy

unregulated health professions such as massage therapy, podiatry and naturopathy
If you are a Cape Breton Island resident, view a full list of take-out and home delivery options below. https://www.cbisland.com/things-to-do/culinary/take-out/ 
Parks Canada
As of July 13th, National Historic Sites have been able to reopen with limited visitor services. Locations may reduce the number of visitors allowed to enter at one time to ensure physical distancing. Please note that some buildings and lounging areas inside the historic sites will remain closed during this time.
Starting on June 22, Parks will gradually reopen camping facilities starting with select self-registration camping areas with limited capacity. Additional camping will reopen in phases, at reduced occupancy, throughout June and July. Visitors are required to have a reservation in order to camp at a Parks Canada place. Parks Canada recognizes being in nature provides important physical and mental health benefits. Going outdoors, including camping overnight, is a great way to maintain health and wellness, so long as everyone follows physical distancing practices.
Visitors should note that there are limited washroom facilities available in select areas.  For more information on camping this season, please click here to learn more.
Group activities and public events are suspended until further notice. For current pass holders, Parks Canada will automatically extend the end date of Discovery Passes for the full duration of the suspended period.
To learn more about visiting Parks Canada locations during COVID-19 click here or see the FAQ link below.
Events and Conferences
We don't know the full impact this outbreak will have on the 2020 tourism season on the Island, but it has already had a significant effect:
The Team Japan training camp that was to take place in Port Hawkesbury in advance of the IIHF Women's World Cup has been postponed to 2021;
Science Atlantic conferences and Psychology of Language Learning conference at Cape Breton University have been cancelled;
The Nova Scotia Federation of Municipalities has cancelled it's spring conference which was scheduled for May in Sydney;
The cruise season has been delayed until October 31, 2020;
The Vince Ryan Memorial Hockey Tournament and the Wallace Bernard Memorial Native Youth Hockey Tournament have been cancelled;
The Canadian National Darts Championships, both Youth and Adults, have been cancelled;
The Cabot Trail Relay has been cancelled for the first time in history;
Granville Green Concert Series has been cancelled for this year;
Senior Little League Canadian Championships have been cancelled;
National Youth Track and Field Championships have been cancelled;
Marine Atlantic Argentia-North Sydney route has been cancelled for the summer season;
Celtic Colours International Festival will be held online only for 2020; and
Bookings are being effected.
Please Note: On August 26th, Premier Stephen McNeil stated that the government is working with four popular venues, including Centre 200, on opportunities to host larger audiences than our current gathering limits. These facilities will be able to host 200 people for indoor events and 250 people for outdoor events, but only if they follow strict criteria and have an approved and detailed action plan.
Destination Cape Breton's Recovery Plans
We've been working to ensure that when the time is right we are ready to promote and encourage visitors to our beautiful island.
On May 1st we provided an update that included:
Industry Communication
Advocacy for the Industry
Contingency Planning, and
Short-Term Initiatives
Tourism & COVID-19 News
Sept 17th, 2020
No New Cases of COVID-19
Sept 16th, 2020
Nova Scotians and Maritimers Encouraged to Keep Rediscovering Nova Scotia This Fall
Sept 14th, 2020
No New Cases of COVID-19
Sept 12th, 2020
No New Cases of COVID-19
Sept 11th, 2020
Easing of Self-Isolation Requirements for Out-of-Province Rotational Workers
Sept 10th, 2020
No New Cases of COVID-19
Sept 8th, 2020
No New Cases of COVID-19
Sept 8th, 2020
Government Eases Restrictions, Allows Designated Caregivers for Long-Term Care Residents
Sept 7th, 2020
One New Case of COVID-19
Sept 6th, 2020
No New Cases of COVID-19
Sept 4th, 2020
No New Cases of COVID-19, State of Emergency Renewed, Symptoms for Testing Updated
Sept 3rd, 2020
No New Cases of COVID-19
Aug 31st, 2020
One New Case of COVID-19
Aug 28th, 2020
Two New Cases of COVID-19
Aug 26th, 2020
Province Further Eases Restrictions in Long-Term Care, Allows Some Large Gatherings, Sets Group Size for Before- and After-School Programs
Aug 26th, 2020
One New Case of COVID-19
Aug 24th, 2020
New Contest Encourages Nova Scotians to Explore Their Province
Aug 23rd, 2020
Nova Scotia Reports One More Death, Two New Case of COVID-19
Aug 22nd, 2020
One New Case of COVID-19
Aug 21st, 2020
No New Cases of COVID-19, State of Emergency Renewed
Aug 21st, 2020
One New Case of COVID-19
Aug 19th, 2020
One New Case of COVID-19
Aug 18th, 2020
No New Cases of COVID-19
Aug 17th, 2020
One New Case of COVID-19
Aug 15th, 2020
Two New Cases of COVID-19
Aug 14th, 2020
One New Case of COVID-19
Aug 8th, 2020
No New Cases of COVID-19, State of Emergency Renewed
Aug 2nd, 2020
Nova Scotia Health advising of potential COVID-19 exposure on July 12 flight from Toronto to Halifax
Aug 2nd, 2020
Two New Cases of COVID-19
July 31st, 2020
Two New Cases of COVID-19
July 29th, 2020
Nova Scotia Reports One More Death, No New Cases of COVID-19
July 24th, 2020
Province Announces Mandatory Masks in Indoor Public Places
July 24th, 2020
No New Cases of COVID-19, State of Emergency Renewed
July 17th, 2020
Province Announces Mandatory Masks on Public Transportation and Easing of Visitor Restrictions in Long-Term Care Homes
July 10th, 2020
No New Cases of COVID-19, State of Emergency Renewed
July 10th, 2020
Tourism Nova Scotia Visitor Information Centres Now Open
July 7th, 2020
Border Tracking Form for Non-Bubble Travellers to Nova Scotia Now Online
July 3rd, 2020
Provincial Campgrounds Open to Atlantic Provinces, More Campsites
July 2nd, 2020
Atlantic Bubble Border Crossing
June 30, 2020
One New Case of COVID-19
June 26, 2020
Further Lifting of Restrictions, New Gathering Limits
June 22nd, 2020
Nova Scotia Reports One Death, No New or Active Cases of COVID-19
June 12, 2020
Feds mandating temperature checks at airports, extending military deployments
Membertou reopening businesses
June 2, 2020
No new cases identified in Nova Scotia on Tuesday
June 1, 2020
Cities to be sent $2.2 billion in infrastructure funds early to help COVID-19 recovery
10,000 Canadians to be tested for COVID-19 antibodies in hopes of understanding immunity
May 31, 2020
Gaelic College in St. Ann's forced to reduce summer offerings
Cape Breton Miners' Museum underground simulator not ready
May 29, 2020
Large cruise ships banned from Canadian waters until October 31, 2020
Nova Scotia to allow 10-person gatherings as no new cases announced on Friday
'A Beautiful Thing': Gift card campaign to benefit essential workers
May 28, 2020
Parks Canada to ease restrictions at Cape Breton sites beginning Monday
Nova Scotia Health Authority reintroducing programs impacted by pandemic
Coach Atlantic Maritime Bus projects $30 million in lost revenue because of COVID-19
CBRM extends deadline for grant applications
May 27, 2020
Most NS businesses forced to close due to COVID-19 can reopen June 5
Prime Minister Trudeau says jobs available for young people, implores employers to re-hire
The Province invests $230 Million to stimulate the economy and create jobs
May 26, 2020
Prime Minister plans to take COVID-19 antibody test once available
Cape Breton Royal Canadian Legion branches turn to headquarters for help during COVID-19
Parliament can't fully resume without virtual voting in place, says Trudeau 
May 25, 2020
Trudeau pushing for 10 days of paid sick leave from provinces amid coronavirus
Antibody treatment for COVID-19 ready for clinical trials, says Toronto scientist
Airlines searching for ways to get Canadians traveling again
May 24, 2020
Nova Scotia reports 1 new COVID-19 case; 973 people recovered
Sydney airport hoping help is in the air as the impact from COVID-19 hits hard
May 22, 2020
Feds readying to recommend contact tracing app
Cape Breton University professor working on technology that could lead to quicker COVID-19 testing
May 21, 2020
Celtic Colours International Festival to be held online this year 
Trudeau offering provinces, territories help to 'scale-up' testing, contact tracing
'The second wave will come' and experts say Canada is not prepared
May 20, 2020
Canada's Cheif Public Health Officer says it is now recommended that Canadians wear facemasks
Feds to announce additional pandemic funding for off-reserve Indigenous People
Maritime provinces with few COVID-19 cases float travel bubble but public health experts urge caution
May 19, 2020
Canada-US border to remain closed to non-essential travel for another month, Prime Minister says it's the 'right thing'
Amid COVID-19 uncertainty, Yarmouth ferry service slated to resume July 15
May 18, 2020
Mabou pub owner donates $15,000 to Inverness hospital emergency department
More than 50 percent of Canada's COVID-19 cases have recovered