Six Unique Places to Stay This Winter
Many marvel at the breathtaking views Cape Breton has in the summertime, but have you ever truly appreciated unwinding in our gorgeous winter? These snowy escapes could become your new favorite way to recharge this season.
Feed your sense of adventure this winter. The enticing scenery and full range of activities to enjoy while you visit makes this a perfect winter getaway. Go on a hike and admire the sun-drenched snowy views and then melt away the stresses of everyday life in one of their unique propane hot tubs. Also expect a greeting by their charming canine mascot Cosmo upon arrival for your stay.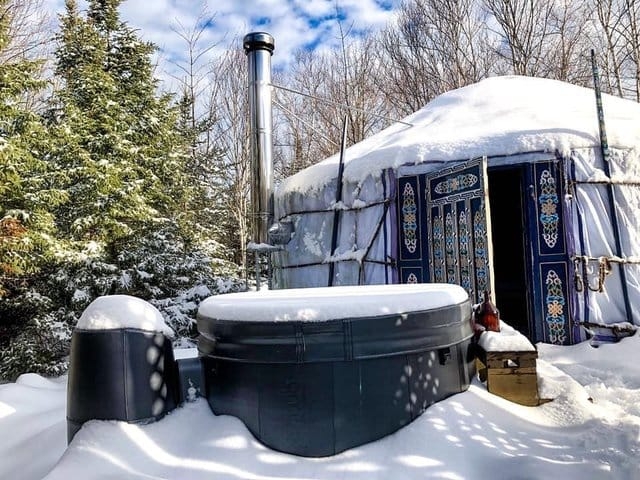 Explore what the Cape Breton winter has to offer. Play a game of pool and sip a beer or have a satisfying midnight snack by the fire prepared in one of their fully-equipped cabin kitchens. There are plenty of culture-rich activities to enjoy in the community, should your adventure take you exploring out into the chilly weather. No need to leave your furry companion home, they're pet friendly.
Savor the views of the Margaree River and relax in their beautifully decorated lodge. The rooms have an old fashioned charm that will allow you to appreciate the simpler pleasures of a winter getaway. Also enjoy daily fresh, hot and delicious homemade meals to help keep you warm. This is a getaway fit for a fisherman.
Make sure you come hungry! The dancing moose has plenty of delicious dishes for you to try during your stay, sweet and savoury. They have four quaint and cozy cabins, or you can unwind at the Sleeping Moose Cottage if you're looking for a little more space and housekeeping.
5. Seaweed and Sod Farm B&B
Experience one hundred acres of serene farmland off the beaten path. Exercise a little with a snowshoe or hike before lazing back at your room. Never been snowshoeing before? Don't worry, they offer guided walks. Calling all animal lovers! You might catch a glimpse of some farm life while you're there.
Break out your dancing shoes and come with an empty belly. There's no shortage of entertainment, eats and brews here. Take in the lovely Bras d'Or Lake view and look forward to a toe-tapping Ceilidh every weekend at the pub. After supper, get a scrumptious handmade confection from Jill's Chocolates for dessert.
Cape Breton is becoming one of the most sought after locations to Instagram in Canada. Use our hashtag #FallforCapeBreton to be entered into a great get away package!
---
Continue Reading