3 Ways to Spend Winter at the Inverary Resort
Perched along the frosty shores of the Bras d'Or Lake, the Inverary Resort is located in Baddeck, the start and end of the world-famous Cabot Trail. With a picturesque location and abundance of amenities, they have three winter packages that we recently got to experience and know are sure to check off all the must-haves on your "cozy winter" Cape Breton bucket-list.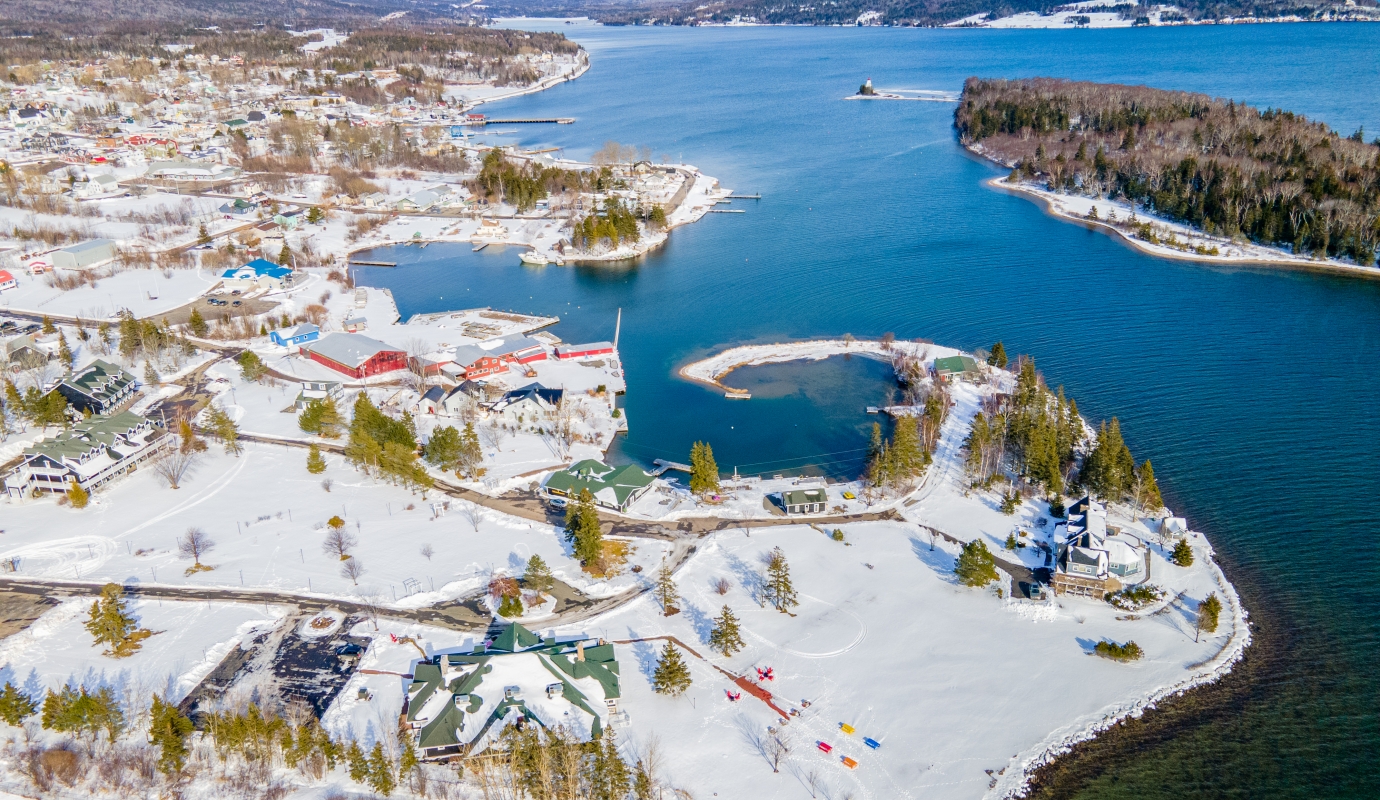 1. Winter Playcation : 2 Night Stay – Available through April 1st, 2021
This one is for all you winter adventure lovers! Step up your winter game by discovering the town of Baddeck and nearby walking trails in all its snow-covered beauty. Bundle up and find yourself snowshoeing, cross country skiing, hiking, and (if the weather cooperates) skating the Inverary Resort's very own cove. After your done outside the fun doesn't stop. Take out that swimsuit and hit the pool! We still can't get over how gorgeous this newly renovated and heated pool was. We had it all to ourselves and look forward to enjoying the hot tub and sauna someday.
After the outdoor and swimming fun is over, your belly will be rumbling. We know ours were. Luckily the Inverary Resort has its own restaurant – The Stone Hearth Pub. With live music playing and delicious options on their menu, it was the perfect lively atmosphere to cap off the day.
Sleep in a little each morning, or go for a memorable sunrise walk on the resort grounds before heading to brunch – included in your stay. Let your breakfast favourites fuel you for another day of adventure!
Note:
• Friday Arrivals Only (blackout dates may apply)
• Starting at $139 per person plus taxes, based on double occupancy
 2. Winter Weekend Getaway:
2 Night Stay – Available through April 1st, 2021
This package is so instagramable! Check into your quaint and cozy room in the Old Barn, a historic and well-loved building on the resort, where welcome sweets will be waiting for you including an Inverary Resort specialty – chocolate-covered oatcakes and fresh fruit. Yum! We snuggled into our plush resort robes, snacked, relaxed, and waited for golden hour.
Right around sunset, it was time to bundle up and take a stroll down to the waterfront. Here, our very own fire table, creamy hot cocoa, tartan blankets, and iconic red chairs were waiting. Watching the sunset over the water was mesmerizing. Cool crisp winter air just feels better when enjoyed by an open fire. While we were quite warm and could have sat there all night, the smell of food from the nearby The Stone Hearth Pub was too good to resist.
A comforting restaurant and live music is everything you want when eating out in winter. We recommend their Wonton Nachos (featuring local sausage) for a starter to share, followed by their Valley Burger (featuring Margaree Beef) for a main, and one of their specials of the night. On this particular night, it was Pork cutlets with a Sun-dried tomato tapenade, roasted corn, and carrots over sesame rice. And of course, local Nova Scotia wine, beer, or spirit pairs well with all.
A weekend getaway wouldn't be complete without sleeping in and indulging in a big brunch afterward. Back at The Stone Hearth Pub, their brunch menu is just as mouth-watering as their dinner menu. We fuelled up on delicious eats before picking up snowshoes (included in the package) and heading out for a little adventure.
• Friday arrivals only (blackout dates may apply). 1 package available per weekend.
• Starting at $165 per person plus taxes, based on double occupancy
3. Spa, Swim, Soak: 1 Night Stay – Available through April 1st, 2021
Anyone else trying to make 2021: the year of self-care? This winter package is for anyone looking to slow down and embrace the season from the comfort of indoors. The Glasgow House on the Inverary Resort is the perfect spot for this. Your overnight stay will be cozy and luxurious with comforting robes on check-in, self-care products, and direct access to the heated indoor pool and Inverary Spa.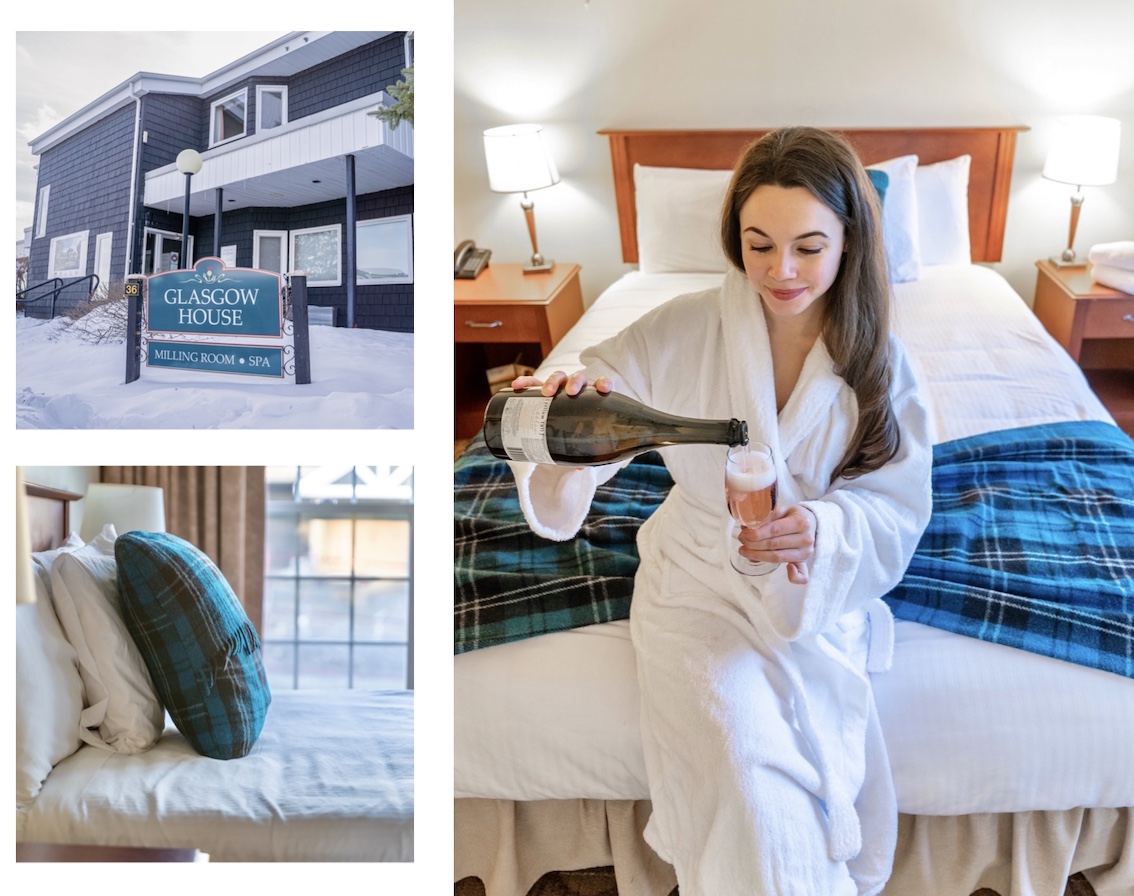 This package includes a $50 spa voucher per guest and brunch for 2. Whether you are an experienced spa-goer or first-timer like us, the staff here will make you feel so warmly welcomed and fine-tune your treatments to you.
We can't recommend the two treatments we got enough! The facial was soothing, giving your face that radiant glow with deep cleansing and gentle exfoliation using the Spa's own sea salt scrub. It may you to sleep! Meanwhile, the therapeutic massage done by the Spa's registered massage therapist will help you move any knots in your back caused by winter activities. This pampered side of life was so rejuvenating that I think we are renaming it the "Spahhhhh" experience instead. Like us, your mind and body will thank you afterward.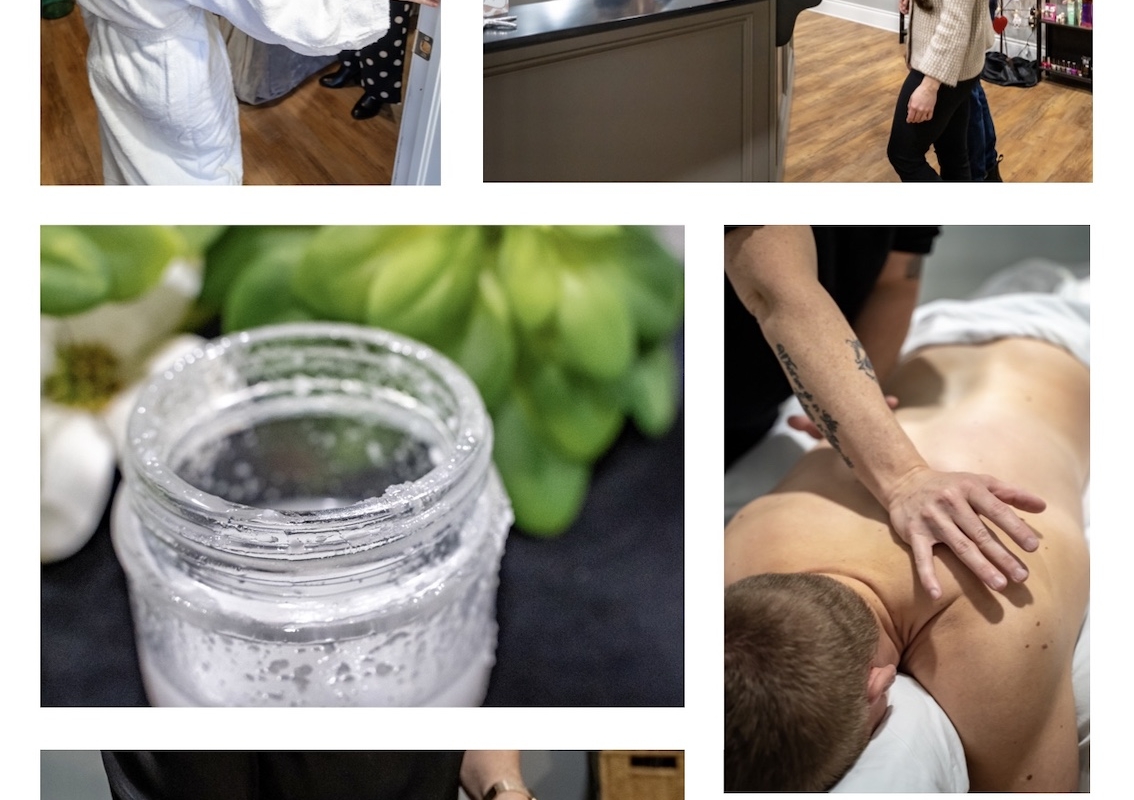 We followed up our "spahhh" experience with a float in the Inverary Resort's heated pool.
Feeling refreshed, the agenda for the rest of the day was more relaxation time before heading to bed for a "no alarm needed" sleep. What's better than sleeping in? An amazing brunch afterward!
The Stone Hearth Pub is Inverary Resort's onsite restaurant and has so many delectable brunch options. Beyond the comforting orders of coffee and mimosas, we highly recommend their French Toast or Chicken & Waffle Sandwich dishes. Delicious! We also have heard wonderful things about their Fish Cakes & Chow too.
Available through April 1st, 2021
• Friday arrivals only (blackout dates may apply).
• Starting at $135 per person plus taxes, based on double occupancy.
We hope our highlights of these winter packages at the Inverary Resort help give you an insight into what you could experience here this season. We love how the Inverary Resort has something for everybody, making it enjoyable for all to embrace winter in their own way. It's the perfect spot for a family getaway, friends having fun, or a couples weekend of romance. Enjoy!
Don't put that camera away just because it's cold! Winter on Cape Breton Island is a Instagrammer's wonderland.
---
Continue Reading