10 Reasons to Fall for Cape Breton Island
Cape Breton is a beautiful island in any season, but there's one season where it shines brighter and that's fall!  Watch eagles soar over mountains painted with vibrant reds, oranges, and yellows. Breathe in the cool fall air in forests that you have all to yourself. Fall may be a short season but it's one of our most cherished time of year on this Island. Let us give you some tips on how you can enjoy fall on Cape Breton Island.
1. Road Trip on the World Famous Cabot Trail
The Cabot Trail is synonymous with coastal beauty in any season, but if you're a leaf chaser, there is no better place to take in Cape Breton's coastal scenery and fall colours. Stop at look offs on Smokey Mountain, North Mountain, and MacKenzie Mountains for photos that will keep you wanting to come back year after year. The Cabot Trail is 298kms of beauty and it's smart to break your road trip into multiple days where you can really explore what each region offers.  Stay in luxurious domes, world-famous lodges, or charming wilderness cabins. No trip around the Cabot Trail is complete without stopping for a hike to a waterfall or for a coffee and oatcake!

2. World Class Golfing
Cape Breton isn't just for amazing adventures, it's also home to world-class (and we really do mean world-class) golf! The Island has 3 of Canada's top 10 courses and has courses that can be found in Golf Digest's World's Top 100 Courses. The Island's golf courses are amazing in every season but there's even more special to golf here in the fall. We have to warn you not to be too distracted by the course's autumn beauty!
3. Hiking
Did you know that Cape Breton is a hiker's paradise? Cape Breton has dozens and dozens of hikes that vary in length, location and difficulty. Want to hike to a waterfall nestled in the mountainside? Cape Breton has that! Or maybe you want to climb a mountain to see the colourful landscape below. Cape Breton has that too! In fact, Cape Breton has such a variety of hikes that you would have to plan to stay for a month to try and attempt them all.  Remember to pack your hiking boots whenever you find yourself coming to Cape Breton!
4. Drive the trail on a Motorcycle!
Driving the Cabot Trail on a motorcycle is a bucket list item for many riders but riding the trail in the fall is uncomparable. The Cabot Trail isn't just a leisurely ride it can also offer you technical challenges that will engage all your riding skills and senses. Ride one of the world's best road trips in a season that outshines every other.
5. Fly Fishing on the Margaree River
You know what they say, a bad fishing is better than a good day in the office and if you're fishing in the Margaree, there's no such thing as a bad day.  Find your moments of peace and zen while casting your line for salmon in one of the most beautiful pools you'll ever see. There's fall beauty around every corner on the Margaree and if you need help on where to go and what pool to fish, we have a number of guides that know every nook and cranny on this river.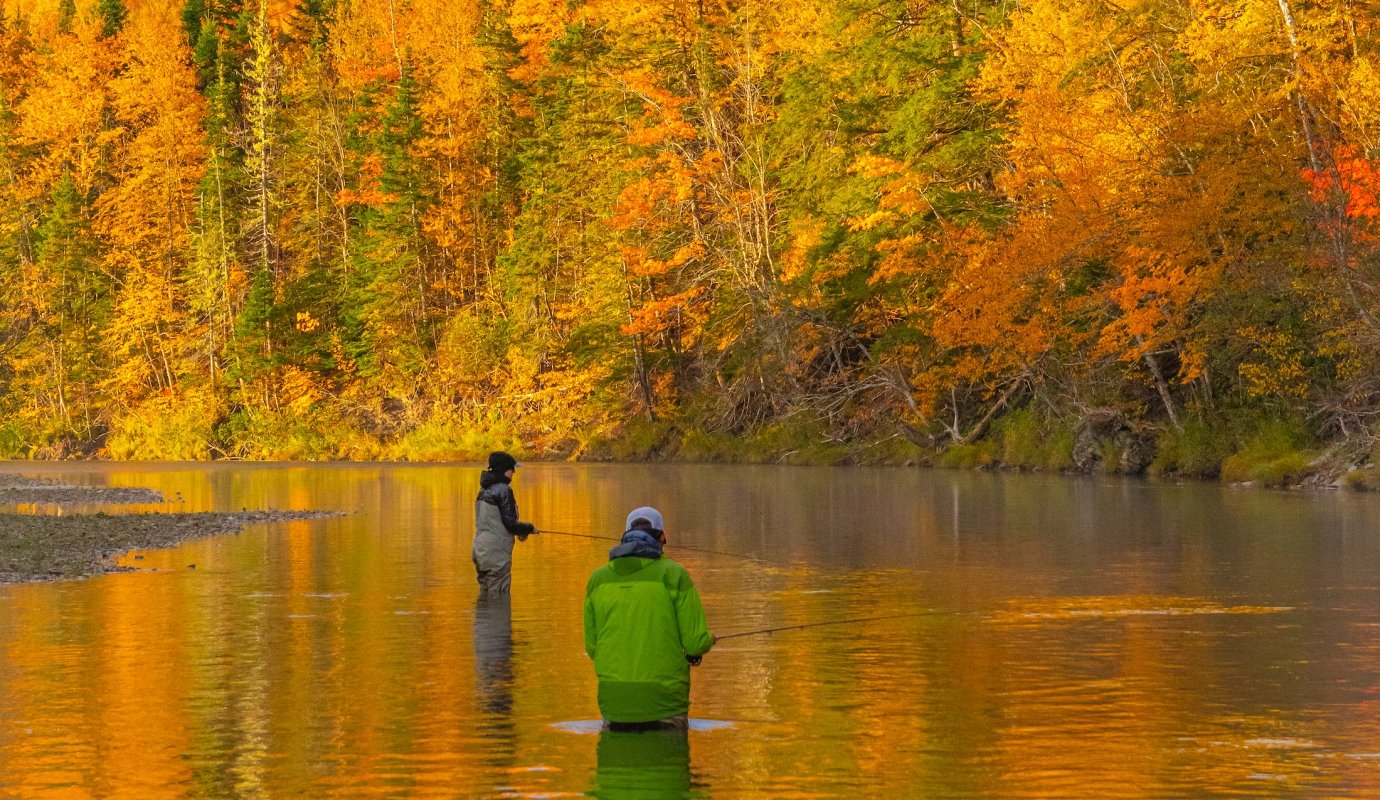 6. Capture Beautiful Photos at one of our Waterfalls
Find the perfect photo for your Instagram at one of our many waterfalls. There are waterfalls all over Cape Breton Island and they're some of the most beautiful in the province! Don't worry if you're not a hiker, a few of our most beautiful waterfalls are located in the Cape Breton Highlands National Park and require little to no hiking at all.  If you're up for the challenge you can hike 18kms (return) to North River Falls, Nova Scotia's tallest waterfall.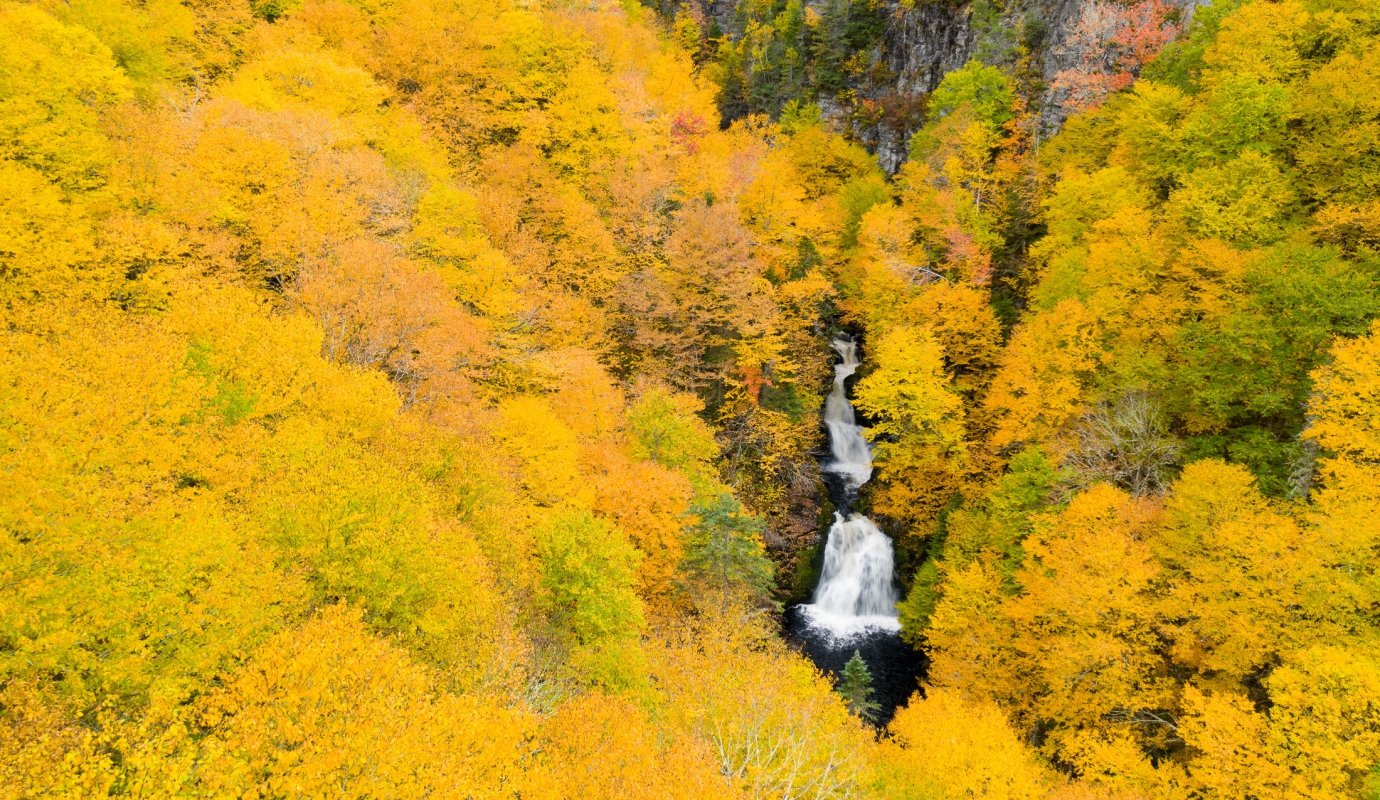 7. Cycle amongst Falling Leaves
Picture this: You're pedaling your bicycle on the Celtic Shores Coastal Trail breathing in the crisp fall air and a breeze blows through the trees, showering you in fresh fall leaves. There's not much that can make that experience better, well maybe stopping on the side of the trail for a sip of tea and an oatcake. Cyclists have been coming to Cape Breton to cycle the Cabot Trail for decades but don't worry, if not up to that challenge there are many other easier trails to cycle instead that will leave you just as breathless.
8. Kayak in Fall's Colourful Palette
Find yourself gliding through lakes and rivers admiring the coast while you watch the autumn colours reflect on the water as your paddle cuts the water. Now that's something for everyone's bucket list.  Cape Breton had a wide variety of kayaking experiences. You can sea kayak on the Atlantic or you can paddle through lakes and rivers hoping to see if a moose will cross your path.
9. Watch Magnificent Wildlife
It's hard to travel anywhere in Cape Breton and not see wildlife.  Cape Breton Island has an amazingly diverse amount of eco-systems that you can explore while searching for eagles, deer, bears, whales, fox and of course, moose! Bring your binoculars or telephoto lenses so you can observe these species safely (for your safety and theirs).
10. Stunning Golden Sunsets and Sunrises
It's hard to make Cape Breton Island's fall even more colourful but everyday we get a new sunset and sunrise that can make the sky's colours rival the Island's. It's these moments that really teach us to stop, put down our phones and just 'be in the moment'.